CHARLOTTE, N.C. -- Carolina Panthers quarterback Cam Newton seemed surprised on Wednesday when told 37-year-old defensive end Julius Peppers was named the NFC Defensive Player of the Week for the seventh time.
"Only seven?" Newton said.
Seven is pretty good when you're at an age when most players are retired or slowing down. No other active player has that many.
"I'm just happy he's on my team and he didn't get no Defensive Player of the Week on sacking me," Newton joked.
Peppers isn't the oldest defensive player to win a weekly award, but he's in good company.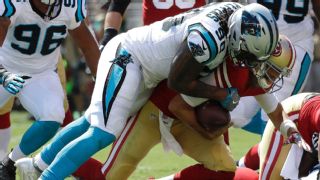 Charles Woodson won the AFC Defensive Player of the Week Award at the age of 38. Reggie White, Bruce Smith and Darrell Green also won a weekly award at 37.
"Everybody in this locker room knows he's a future Hall of Famer," nickelback Captain Munnerlyn said of Peppers, a nine-time Pro Bowl selection. "The stuff he's doing, he's found some youth and he's playing well, man."
Peppers won this week's award after collecting two sacks, three quarterback hurries and four tackles in Sunday's 33-30 upset at New England.
He now has a team-leading 4.5 sacks in four games. That's his fastest start since the 2006 season when he had five sacks in the first four games en route to 13.
Peppers didn't reach 4.5 sacks until the 10th game last season at Green Bay. He finished with 7.5.
Peppers ranks fifth on the NFL's all-time sack list with 148. He is 2.5 behind Chris Doleman (150.5) and 12 behind Kevin Greene, who had 27 sacks over his final two NFL seasons with the Panthers in 1998-99.
"Frazier, he's a beast, man," said Newton, who gave Peppers the nickname which refers to former heavyweight champion Joe Frazier. "I don't even have an adjective or a verb to describe the type of player he is. He's very dynamic. From what I hear he's more vocal than he's ever been, and that's kind of scary because he doesn't really talk."
Peppers in March returned to the Panthers, where he spent his first eight seasons after being the second overall pick of the 2002 draft. He signed a one-year, $3.5 million deal, which is a bargain now considering his 4.5 sacks rank fifth in the NFL.
Kansas City defensive end Justin Houston, right behind Peppers with four sacks, has a salary cap hit of $22.1 million this season.
Panthers coach Ron Rivera said Peppers has been fun to watch.
"The guy has been terrific," he said. "He's really helped a lot of our young guys out and he's also been a big boon for our defensive coaches."
Peppers has benefited from playing beside one of the league's best group of defensive tackles in Star Lotulelei, Kawann Short, Vernon Butler and Kyle Love. The consistent inside push they get keeps quarterbacks from stepping up in the pocket, leaving them sitting ducks for Peppers charging from the outside.
"It's a blessing to be able to do what he's done for this long," said the 30-year-old Love. "I'm just excited because I get to play beside him. I've been watching him since I was in high school."
Peppers gets teased a lot about his age. No one gives him a harder time than Munnerlyn.
But nobody respects Peppers and what he's doing more than Munnerlyn.
"When Pep puts his mind to anything, he can do it," he said. "He's got his mind made up this year. He has his mind made up he wants to win and he wants to win. He's a man on a mission."