[+] Enlarge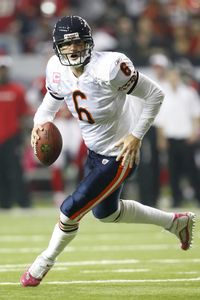 Todd Kirkland/Icon SMI
Jay Cutler's contract extension will keep him in Chicago through the 2013 season.
LAKE FOREST, Ill. -- Jay Cutler's desire to remain in Chicago long-term proved to be a major reason the quarterback agreed to a two-year extension that keeps him under contract with the Bears through the 2013 season.
"I think it was mutual," Cutler said. "I wanted to be here for a while. I think the Bears wanted me to be here awhile, so it worked out for both of us. Both sides knew it was going to happen at some point. We just didn't know when the best timing was, but it happened pretty quick."
Cutler also acknowledged that the looming labor uncertainty in 2011 persuaded him to expedite the process of accepting a deal.
"Absolutely, I think every player in the league is concerned with that because we don't know what's going to happen, whether there is going to be a lockout or not," Cutler said. "The NFLPA is advising everyone to save money, so any money you can get before that point is going to be good for any player.
"I think it was fair for me, fair for the Bears. I'm happy with it."