CHICAGO -- Finally, the Bears defense got back to forcing turnovers in bunches, coming up with five in the win over Cleveland.
[+] Enlarge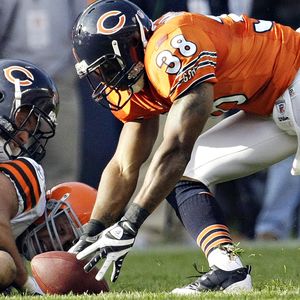 AP Photo/Charles Rex Arbogast
Danieal Manning (38) picks up the loose ball after a fumble by Cleveland Browns tight end Steve Heiden in the third quarter.
"Just running to the ball, that helped out a lot," Danieal Manning said. "Just trusting in the scheme, that puts you in good positions, so that's what we played."
Manning played a big part in the defensive revival, as the versatile defensive back was responsible for two take-aways. He made a beautiful diving interception in the opening quarter, then promptly got to his feet and returned the ball 35 yards to the Browns' 13-yard line. Later in the third quarter, Manning stripped the ball from Cleveland's Steve Heiden, then recovered the fumble himself.
Charles Tillman also double-dipped with turnovers, recovering a fumble and returning a late pick 21-yards for the game-sealing touchdown.
"I just read the quarterback," Manning said of the interception. "I think the guy ran like a skinny post, so I just read him and saw him running inside. The ball was thrown right there, so I just made a play on the ball. I was feeling great about it, but I'd be feeling better if I scored. Now I got to go talk to Peanut about him scoring."
Linebacker Nick Roach was credited with two forced fumbles, while Adewale Ogunleye also had a fumble recovery.