LAKE FOREST, Ill. -- After having to endure the likes of Jonathan Quinn and Craig Krenzel in Lovie Smith's first season as the Bears coach, the team brought veteran quarterback Kurt Warner to Halas Hall in March, 2005.
[+] Enlarge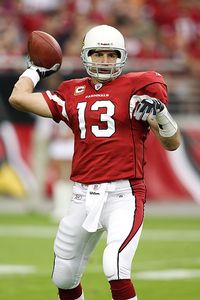 Gene Lower/Getty Images
Kurt Warner said he would have loved to have played for Lovie Smith, but he wasn't sure the Bears were the right fit.
The Bears wanted Warner to back up incumbent -- but often injured -- starter Rex Grossman. Warner listened to the sales pitch, but eventually opted to sign with Arizona.
The rest is history. But we can still wonder what it would have been like if Warner came to Chicago, right?
"Who knows?" Warner said during a conference call with Chicago media on Wednesday. "I'd like to think I would have gone to a Super Bowl there, too.
"I remember sitting there talking to Lovie, and how much I would've loved to have played for him. I just remember [thinking] I don't know if this is the right fit for me. It's weird how it works out, but I know I would have loved playing in Chicago, in front of those fans and for Lovie. It would have been great. But I'm not going to trade anything for my experience here in Arizona."
Neither would the Cardinals.