[+] Enlarge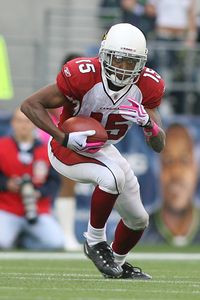 Tom Hauck/Getty Images
In the shadow of teammates Anquan Boldin and Larry Fitzgerald, Steve Breaston caught 77 passes for 1,006 yards last season.
LAKE FOREST, Ill. -- With Anquan Boldin's status a mystery for Sunday, Arizona may lean heavily on wide receiver Steve Breaston, who despite playing third fiddle to Boldin and Larry Fitzgerald, still caught 77 passes for 1,006 yards last season.
Charles Tillman likely will shadow Fitzgerald on Sunday, leaving second-year cornerback Zack Bowman to cover Boldin or Breaston.
"I got a little bit of history with Steve," Bowman said before Thursday's practice. "I played against Steve in college in the Alamo Bowl (Nebraska vs. Michigan in 2005). We've seen each other before, but I expect Boldin to play. He's a tough guy."
Bowman actually had one of his best collegiate games against Breaston and the Wolverines. He recorded an interception and broke up a Nebraska bowl-record five passes.
"I went up against him [Breaston], but I went up against Jason Avant more," Bowman recalled. "But I remember Steve, he was one of those break-out guys. He got the ball in his hands, and everybody just stopped to see what he was going to do."
Breaston is fourth on the Cardinals with 30 receptions for 400 yards this season.