LAKE FOREST, Ill. -- One day after being ejected for punching Arizona guard Deuce Lutui in the head, Bears defensive tackle Tommie Harris met the media Monday at Halas Hall.
[+] Enlarge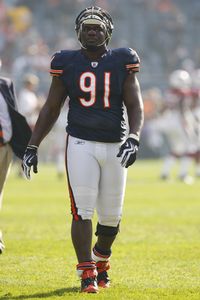 AP Photo/Nam Y. Huh
Tommie Harris said he's embarrassed and apologized for being ejected early in the game after punching Deuce Lutui.
"I was embarrassed, especially for my actions," Harris said. "I apologized to him [Lutui] yesterday, [and] I called Larry [Fitzgerald] and had a chance to apologize to him. I just want to apologize to my fans first off, and the little kids out there that saw that action. I shouldn't behave in the manner. I apologize to my teammates, and I'll make up for it."
Since Harris ducked out of the locker room without addressing the subject Sunday, this was the first time he offered up an explanation for what led him to hit Lutui on the fourth play of the game.
"He did some unnecessary stuff during the game," Harris said. "But I still have to be able to control myself. In the six years I've been here, I've never done anything like that. He kind of pushed me to my limits. It was a combination of two plays, it just didn't happen on that one play."
Harris claims he hasn't spoken with Bears general manager Jerry Angelo, but did have a conversation with head coach Lovie Smith.
"[Smith told me] that wasn't the right thing to, and they're going to take care of whatever they have to with the league," Harris said.
Does the defensive tackle expect a suspension from the NFL?
"I don't know. I don't know," Harris responded. "I just show up and come to work like it's a regular work week, and see what they [the league] have to say."
Fans have had plenty to say about Harris, who was suspended by the team in 2008, and was essentially a healthy scratch a few weeks ago versus Cincinnati. Many feel the Bears would be better off ridding themselves of Harris, considering his production has dropped off severely since signing a lucrative contract extension before the 2008 season.
"It isn't unfair at all for them to say that," Harris said. "People are going to be people. I just have to continue to keep approaching my job on a regular basis, and being professional. And that's what I'm going to do."
Another school of thought circulating in the aftermath of the Harris fiasco is that the former first-round pick intentionally got himself ejected from the game. Perhaps Harris, knowing his chronic knee problems have left him a shell of his former self, simply didn't want to play against the Cardinals.
"I really don't have to respond to that," Harris said. "I hit the quarterback on the second play of the game. Why wouldn't I want to play?
"I've seen a lot of guys get punched, I've seen a lot of guys get kicked. I've seen Adewale [Ogunleye] get jumped by a team of Buccaneers [in 2008], and nobody got kicked out of the game. But I didn't know I was going to get kicked out. I was talking to my teammates after the play, [and] if you noticed, I still didn't recognize I was ejected from the game. I stayed on the sidelines and Lovie told me I had to leave. I didn't know I was ejected. I didn't hear anything Ed Hoculi said out there.
"I though it was a penalty and I was going to get fined by the NFL."