LAKE FOREST, Ill. -- If the Arizona Cardinals can run at will against the Chicago Bears, what's going to happen Thursday night in San Francisco?
[+] Enlarge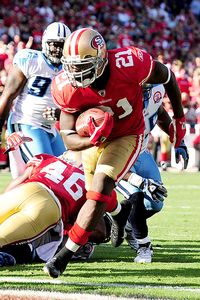 Kyle Terada/US Presswire
San Francisco's Frank Gore is averaging an NFC-best 5.6 yards a carry.
The Niners boast one of the top running backs in the NFL in Frank Gore, who is averaging an NFC-best 5.6 yards per carry.
"North and south, he's the best in the league," Bears defensive end Adewale Ogunleye said. "He gets downhill fast. He's not a guy that's going to get on the edge and do a lot. He's going to get up the A gaps and run. He's doing that very well."
But don't let Gore's in-between-the-tackles running style fool you; he's just as dangerous in the open field. The star running back had touchdown runs of 79 and 80 yards earlier this season against Seattle, part of a 207-yard day.
"He's the kind of guy that will run through you, and run away from you," Ogunleye said. "We have to be on top of our game, and our safeties have to be in the right gaps."
"He's definitely a beast who sort of reminds me of Ced [Benson]," Bears defensive tackle Marcus Harrison said. "He's a downhill runner; one cut and he's gone. But their offensive line is very physical, in terms of what they do up front. If he gets to that second level, you got to get him, because he can take it to the house. He's a threat."