SAN FRANCISCO -- Things are looking a bit shaky for the Bears at safety Thursday night -- Kevin Payne (back) is out, and Al Afalava (shoulder) is questionable to face the Niners.
[+] Enlarge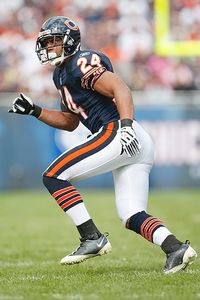 Scott Boehm/Getty Images
Safety Al Afalava appears to be out for Thursday's game vs. the 49ers.
The Bears really need Afalava to play, but the rookie hasn't practiced the entire week. Skipping practice before a regular season game is no big deal to most veterans (in fact, they probably prefer it), but Afalava likely feels differently. Regardless, he might have to put aside those concerns and give it a try.
The Bears like to use a three safety package in certain running downs, and against certain running back -- San Francisco's Frank Gore falls into that category. Alex Smith is a very mediocre quarterback, so it would be wise to key-in on Gore, and use that extra safety in-the-box. But when that extra safety is Craig Steltz or Josh Bullocks (or maybe both), bad things may happen at Candlestick Park.
In my opinion, the Bears are the better football team, but allowing Gore to gash them for a big-run early, might be too much for this group to psychologically overcome.