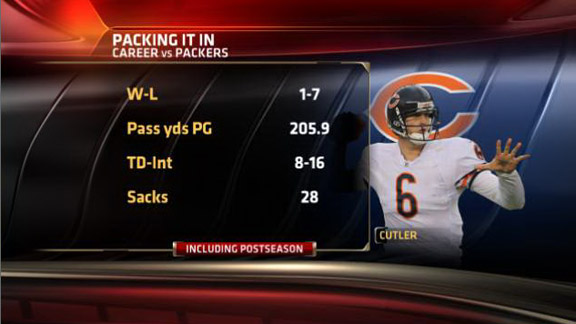 More than anything, Thursday night's game was about the struggles of Chicago Bears quarterback Jay Cutler, who found himself on the turf more in the game's first 21 minutes than he did when he was sacked twice in a Week 1 win.
Let's take a closer look at all the stats associated with Cutler's issues.
Jay Cutler's rough day
Cutler was intercepted four times and sacked seven other times by the Packers defense.
Elias tells us that the last quarterback who was sacked at least seven times who threw four or more interceptions in a game was Patrick Ramsey of the Washington Redskins against the New Orleans Saints on October 13, 2002 (four interceptions and seven sacks).
The last time the Packers had at least seven sacks and four interceptions in a game was on September 24, 1978, when they had eight sacks and five interceptions against a Chargers team that used three quarterbacks in a 24-3 Packers win.
The last time the Bears quarterbacks threw at least four interceptions and were sacked at least seven times was November 21, 1971 against the Lions (the Bears quarterback that day was Bobby Douglass).
Jay Cutler Passing
Throws of 10+ yards downfield
Cutler struggled on throws traveling more than 10 yards downfield, going 2-for-11 for 35 yards with one touchdown and two interceptions.
Last season Cutler ranked among the best quarterbacks in the NFL on passes of that length, as noted in the chart on the right.
How did the Packers defense attack Cutler?
They sent five or more pass rushers on 13 of Jay Cutler's 35 dropbacks. Against such pressure, Cutler was 2-for-9 for 24 yards with two interceptions and was sacked four times. Cutler's 22 percent completion percentage against more than four rushers is lower than the Packers allowed in any game last season.
The Bears have now lost five straight games at Lambeau Field, their second-longest losing streak there since the stadium opened in 1957. The only one longer was a six-game streak from 1993 to 1998.
Elias Special Teams Stats of the Day
The other key to the Packers win
Mason Crosby's 54-yard field goal set a record for the longest field goal by a Packer in Lambeau Field.
Tim Masthay's touchdown throw off a fake field goal was the first touchdown pass by a Packers punter in nearly 40 years. The last was by Ron Widby in 1972.