SAN FRANCISCO -- Most people are probably ready to put the nail in the Bears' 2009 coffin. Even the most optimistic observer will have a difficult time finding any positives in a 4-5 record -- especially since the Bears have lost four of their past five.
[+] Enlarge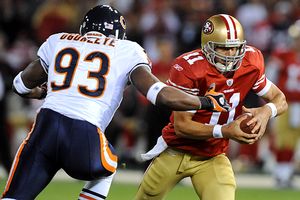 Kirby Lee/Image of Sport/US Presswire
Despite the Bears' 4-5 record, don't count the Bears out, says defensive end Adewale Ogunleye.
Regardless of the facts, players and coaches were adamant in the postgame locker room that hope still exists to salvage this season.
"Is it over? Nope," Bears defensive end Adewale Ogunleye said. "Arizona last year went to the Super Bowl at 9-7, so you got to find bits and pieces of things to draw on. Right now, it's not good, but you got to stay positive. We got to get ready for a serious, serious offense coming in with Philadelphia next Sunday."
"It's not over yet," Tommie Harris said. "The NFL is so funny, with different teams losing that put you back in position (for a playoff berth). I think we'll get another opportunity, and I think we'll seize it. Right now, it's a tough pill to swallow, but we all have to stick together and keep on believing."
Believe what? That the Bears are good enough to make the playoffs? Not likely, considering they continue to make ridiculous mistakes in bunches.
Five turnovers + 10 penalties = a team destined to miss the postseason for the third consecutive year.