It's a statistic that is getting scary. And I mean that in a good way.
[+] Enlarge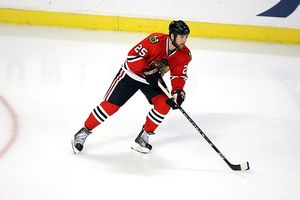 Jonathan Daniel/Getty Images
Cam Barker had a hard shot last season, but it's even more potent this year.
The Blackhawks, through six games, have outshot their opponents 225-127. You might believe stats are misleading. This one is not.
Patrick Sharp had a team-high five Wednesday night and ranks 12th in the league in that category. He says it's not an accident.
"It's been our thought process all year long, just getting pucks to the net with bodies in front," Sharp said after his two-point night. "It doesn't always have to be a quality shot, but it's going to cause chaos in front and result in some goals."
One key is the shots coming from the point. If they don't go in, they usually cause that chaos Sharp was talking about. No one, especially the defense, knows where that rebound is going and it becomes an advantage to the offense.
"Our [defensemen] are pretty agile and pretty mobile," Joel Quenneville said. "We get a lot of action off of shots from there."
No one exemplified that more than Cam Barker. I've written previously about his accurate shot, and it was on display Wednesday night as he scored the critical fourth goal. Quenneville's praise went one step further.
"He's got a bomb from the point," Quenneville explained. "He had a hard shot last year, [and] I think it's a harder shot this year. Not many guys can beat a goalie from that far out."
Barker credits the players in front of the net.
"If he can't see it, he can't stop it," Barker said.
The Hawks' shot differential is tops in the league. Only Buffalo is close and, coincidence or not, the Sabres are off to a good start as well. The Hawks average 37.5 per game, but even more impressive is the league-low 21.3 they give up.
A great, smothering defense comes to mind when you hear that statistic, but those who have watched the games know that's not really the case. Mistakes have been made, goals have been given up, and really, besides Niklas Hjarmalsson, you can't say any one defenseman is off to a great start.
In this case, a good offense has meant a good defense. It's exactly what the Red Wings would do to teams. Holding onto the puck, shooting and recovering it, and then cycling it down low simply eat up the time the other team could have in the Hawks zone. There used to be a statistic the league kept called "zone time." They kept track of how long, in terms of minutes and seconds per game, that each team had the puck in the other team's defensive zone. It was like a "time of possession" number they keep in football. One can only guess how big that number would be for the Hawks this season.
With these kind of shots for and against numbers, the Hawks make it easy on their goaltenders. Now, can their goaltender make it easy on them?