[+] Enlarge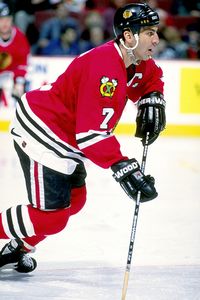 Getty Images
Former Chicago Blackhawks star Chris Chelios' signing with the Wolves makes sense.
CHICAGO -- So it's official. Chris Chelios has signed with the Wolves.
For a guy that wants to keep playing, it makes all the sense in the world. He'll be able to show the hockey world what he can do on the ice instead of just telling them he's ready and available. Plus, he gets to play in his hometown again.
Make no mistake, he wants to play in the NHL and this is the only way he's going to get back there. More than likely, it will take an injury or two on the blue line for him to get a look from a team. Maybe a team that is short on depth in that position. In that regard the Hawks would probably qualify, though there's no word on whether they would be interested if the opportunity arose.
The question for Chelios is what happens if a team that is not in the race for the playoffs comes calling to fill a spot or to draw some fan interest. Would he go to a non-contender? I think the answer is yes. There's no reason to waste all that hard work and then turn down a chance to return to the best league in the world.