An epic season series continued with yet another shootout finish, and for the second time in three games, the Hawks came out on top. Patrick Sharp beat Craig Anderson for the winner, and with that, the Hawks beat the Colorado Avalanche 3-2 on Wednesday night and earned their 10th win of the season.
[+] Enlarge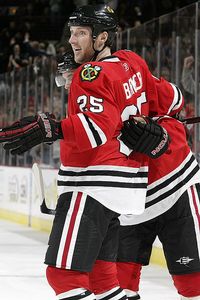 Bill Smith/NHLI/Getty Images
Cam Barker showed why he's the Hawks' "offensive defenseman" when he scored the tying goal Wednesday night.
Sharp might have won it, but Cam Barker saved the day with a highlight-reel rush to tie the game in the third period. Barker passed it to himself off the boards near his own blue line, then went forehand, backhand, forehand before roofing one past Anderson.
"The defense is encouraged to jump in, especially when we are behind," Barker said. "It was a chip play. I was able to chip it past the D, and Anderson may have been cheating a little bit and I was able to get it upstairs."
"It was impressive," Sharp said. "We're used to seeing him work the power play and using his big shot to score goals, but he showed some great speed and some great puck control. I give him a B-plus for the celebration. He gave a fist pump and showed some emotion, which is different out of him."
Chicago coach Joel Quenneville said the team was "fortunate" to win this one, as Colorado outplayed the Hawks for the most part, but not in the third period and certainly not in the shootout, which needed only the minimum three skaters.
The Hawks have never had every game in a season series go to a shootout. They have a chance to do just that with one game left against the Avalanche in April.