It wasn't pretty, but the Hawks survived a sloppy third period, beating the Maple Leafs 3-2 on Friday at the United Center. They had led 3-0 five-and-a-half minutes into the second period. Why the letdown?
[+] Enlarge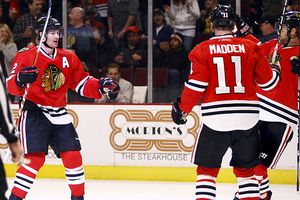 Rob Grabowski-US PRESSWIRE
John Madden faulted the Hawks' falling back on their heels in the third period for the close game against the Maple Leafs.
"We left off the gas," John Madden said after the game. "We played the first period unbelievable; second period we played well until they scored late, but after that, we kind of sat back and played on our heels a little bit. That's not us."
The Hawks had 20 shots on goal in the opening period, but only 14 the rest of the way. Ben Eager took an unnecessary roughing call with less than 10 minutes to play, opening the door for the Maple Leafs' second-ranked power play, but the penalty-killing unit came up big, as did Cristobal Huet.
"'Huey' has been great," coach Joel Quenneville said. "When the games is on the line, he finds pucks. He's sharp and made some big saves in that third period to keep the lead. You have to commend him [on] how's he gotten better and better and better, day in and day out, as we progress."
Troy Brouwer had another strong game, scoring the eventual winning goal on the power play, dropping his gloves for a bout with Luke Schenn and doing his part on that penalty kill, one of only two times all night the Hawks were short-handed.
Patrick Kane scored his sixth after hard work by the fourth line tired out Toronto, allowing Kane to steal and tally. Duncan Keith had a goal and an assist, and Brouwer stands one goal off the team lead after scoring his fifth.
Madden and Jonathan Toews were a combined 23-8 in the faceoff circle. The Hawks have won six in a row at home.