Jonathan Toews didn't see Brent Seabrook pinching before getting him the puck for the Blackhawks' overtime game winner. But he did hear him.
[+] Enlarge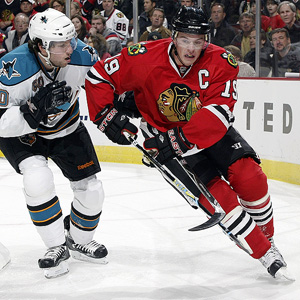 Bill Smith/NHLI/Getty Images
Jonathan Toews said he knew Brent Seabrook was open without having to look up.
"I didn't see him, but I just heard him screaming, like a girl almost, so I knew it was him," Toews joked. "I knew he was wide open."
Seabrook pounced on it to complete a 4-3 comeback win against the Sharks for Chicago's seventh straight home win and fourth in a row overall.
There was no panic in the Hawks as they got down 3-1 on two Sharks tallies within 45 seconds of each other early in the second period. By intermission, it was 3-3 and the Hawks were back in it.
"Down two against a top team like that, you're not going come back and get two very often," coach Joel Quenneville said after the game.
But the Hawks did and then got it to overtime before Toews and Troy Brouwer won a battle before Seabrook's winner. Brent Sopel scored his first of the year, but John Madden's goal very late in the second period was key, putting the Hawks in a tie before the final intermission.
The Hawks will play their next six games on the road, starting Thursday night in Calgary.
Note:
Kris Versteeg sat out the game with an "upper body" injury. He was banged up in Friday's game against Toronto. Quenneville says he's day-to-day and it should be a short-term injury.