The circus trip seems a lot less daunting these days. Maybe it's because the Hawks just had one heck of a week at home and look to be rounding into form as they get ready for Marian Hossa's long-awaited debut.
But first, let's wrap things up from Sunday night's great win over San Jose.
This one deserves top billing. According to the stat sheet, John Madden went 9-9 in the faceoff circle against the top faceoff team in the NHL. That's incredible. Even more amazing is in the last two games he's 22 for 25 in the circle. Oh, and he also scored a huge goal in Sunday's game.[+] Enlarge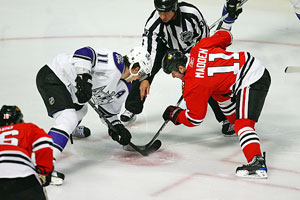 Jonathan Daniel/Getty Images
In the last two games, John Madden is 22 for 25 in the circle.
Ironic that on the day news surfaces that Jonathan Toews and Patrick Kane are getting closer to signing contract extensions they're reunited on the ice. It didn't take long for their chemistry to return. From behind the Sharks' net, Toews found Kane in the slot for the Hawks' second goal, which woke up the building.
It doesn't take long for us to get going once we're thrown back on the same line," Toews said. "We were talking about it the other day. We are so used to being together on the same line for the past two years, and we haven't been much this season. It worked out pretty good."
Instead of just keeping Andrew Ebbett in the lineup with Kris Versteeg hurting, the Hawks elected to recall Bryan Bickell and also play Jordan Hendry at forward. That might tell you where Ebbett stands these days, but it also tells you about the matchups. The Hawks went with a bigger lineup against the notoriously big and bad Sharks. It worked out pretty well.
Brent Sopel scored his first goal of the season with an assist from Jordan Hendry. That's something you won't see every day. And kudos to the fourth line of Hendry, Colin Fraser, and Ben Eager. They, along with the fifth and sixth defensemen pairing of Sopel and Cam Barker were on the ice for the goal. It's a major bonus when you get a tally like that.
Duncan Keith has 10 assists after notching two more against the Sharks. That's tied for tops on the team as Hawk blue liners continue to rack up points.
It was so good, it's worth reading it again. Toews, on finding Seabrook in the slot for the game-winner in overtime: "I didn't see him, but I just heard him screaming, like a girl almost, so I knew it was him. I knew he was wide open."