[+] Enlarge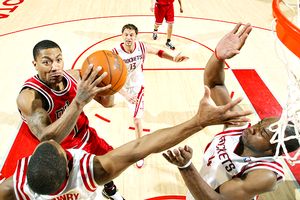 Bill Baptist/Getty Images
Derrick Rose is averaging 23 points a game in January.
SAN ANTONIO -- The Chicago Bulls werent running on empty on Saturday night like everyone thought they would be. They were just running.
Again.
Playing on the second night of a back-to-back, and without center Joakim Noah, most people figured the team would run out of gas and fade in the end.
But it didn't happen.
In fact, Vinny Del Negro's team picked up its second win in a row and proved yet again that they are at their best offensively when they are moving up and down the court like the Suns. They have an athletic lineup that can pull it off, and it's clear that the players have responded to the more up-tempo style.
"Yeah, that's something we've been trying to do all year," Rose told me after the Phoenix game. "Just pushing the ball. Getting people open. Rebounding and running. But we just got to play defense in order for us to do that."
The Bulls have played good enough defense to survive, but Del Negro doesn't sound as confident that a full-time fastbreak offense is going to become a mainstay.
"Every game is different," he said after Friday's win. "Every game presents different match-ups and different issues ... we just got to play hard, play smart. I thought we played a little bit smarter [Friday night]. We didn't make too many bad turnovers where it cost us in the open court like we did [Wednesday against the Clippers]."
Although it's certainly true that the Bulls, like most every other NBA team, have struggled at times this season with turnovers at crucial moments in games, it would be foolish for Del Negro not to at least consider the possibility of pushing the ball on a more consistent basis. The Bulls look and most importantly, play differently when it they are sprinting up the sides looking for a shot.
"They get in the open court, that's when they're good," Houston coach Rick Adelman said before Saturday's game. "I remember last year in the playoffs they were really difficult to guard ...
"I think when they're shooting and making shots and attacking they're a real difficult team and their energy level seems to get better at the other end."
The beauty of Del Negro's strategy over the past two games is that the energy really does seem to go up when the Bulls are flying up the court. They seem much more excited to play, and much more willing to get ready defensively so that they can get the ball back. The proof is in the 110 points they have averaged over the past two games.
"We're always saying we want to play a tempo," Del Negro said on Saturday. "But against certain teams ... you start taking quick shots against Phoenix for example [Friday] night, you take some quick shots and you're not making them, now they're on the break and they're a high scoring team for a reason.
"We shot the ball well [Friday] night. That was one of the big keys to the game. And we kept our turnovers down and didn't give them many open looks in transition. Quick shots are fine if they go in. If they don't, against teams that like to run and can spread you out, they can put a lot of pressure on your transition defense, and defense overall."
I see what Del Negro is saying, and respect the fact that he is still skeptical, but the recent surge in offensive productivity is too hard to ignore. At times this season, the Bulls' offense has been hard to watch. Now that it actually seems to have some life in it, why would you try to slow it down again?