[+] Enlarge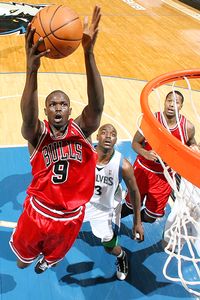 David Sherman/NBAE/Getty Images
Luol Deng helped lead Duke to the Final Four in his only season with the Blue Devils.
Luol Deng gave me a puzzled look when I asked him if he was excited about Wednesday night's game.
The Bulls are off on Wednesday night but there is a team close to the young forward's heart that is playing at the United Center in their place.
"Duke," I said.
A smile broke across Deng's face. "Oh, I'm happy they've been doing well," he said. "Happy to see them. Happy to see the coaching staff. It's pretty much still the same coaching staff, so I can't wait to see them."
You can bet that the Bulls forward will be in attendance cheering on his Blue Devils when they square off against Iowa State. Deng spent just one season in Durham, N.C., under the tutelage of Hall of Fame coach Mike Krzyzewski, but he made it memorable. The lanky teenager averaged 15 points a game and helped lead the Blue Devils to the Final Four.
Now, he's a fan just like so many others across the country. I caught up with him briefly before the Bulls game on Tuesday, and we discussed his thoughts on seeing his old team play ...
Nick Friedell: You don't get to see them much during the season? How cool is it that they are actually playing here and you can see them?
Luol Deng: It's really cool. Two years ago they played in Philly when we were in Philly, so I got to see them. I'm really happy. Happy to see the coaches, see some of the guys. I'm looking forward to it.
NF: Are you going to be able to talk to the guys at all before the game?
LD: I'm not sure. I think I might go out to eat with Coach [Chris] Collins. We're still trying to work that out.
NF: Do you have a specific memory from school that you've kept with you this whole time?
LD: Yeah, in the [2004 NCAA] Tournament, the game against Xavier before we went to the Final [Four]. Just in the locker room, I broke down. I wanted to win so bad, because I just knew my parents would make the Final Four. It was their first time seeing me play, so I wanted to make it there bad. I remember everyone kind of getting up and saying we're going to do it. [I] just miss those kind of days.
NF: What is the difference between the atmosphere in the NBA and the atmosphere at Duke?
LD: In college you play 30 games. And then in the tournament if you lose, you're out. So every game really is important. In the [NBA], every game is important, but [the season] is so long that a lot of times guys kind of lose emotion a little bit. I'm not talking about not playing hard, I'm just talking about showing that emotion. For me to come out here and scream today and go crazy, it's not the same as me screaming in the playoffs.
NF: He'll probably be at Duke forever, but is there any doubt in your mind that if Coach K wanted to coach in the NBA he could do it?
LD: Yeah, if he wants to coach he'll do it.
NF: What makes him so much of a better coach compared to everybody else?
LD: (Laughs) He's been winning.
NF: That's all it boils down to.
LD: That's really all it is.