[+] Enlarge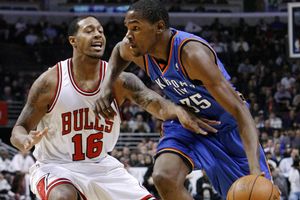 AP Photo/Charles Rex Arbogast
Kevin Durant finished with 25 points in the Thunder's 98-85 win over the Bulls on Monday.
CHICAGO -- Derrick Rose and Luol Deng are good. But there's little doubt after watching the Oklahoma City Thunder roll past the Bulls 98-85 on Monday night that Russell Westbrook and Kevin Durant are better.
The Thunder duo combined for 52 points (29 for Westbrook and 25 for Durant) and snapped the Bulls' four-game winning streak in the process.
"They're just good players," Rose said after the game. "They always attack. That's what they need to do for their team. They do a good job at it and that's why they're so effective."
Effective and efficient is more like it.
Westbrook and Durant combined to go 22-for-38 on the night, compared to a 15-for-37 clip from Rose and Deng. The Thunder's young superstars had the ability to score at almost all times, while Vinny Del Negro's Chicago Bulls struggled mightily at times to get any semblance of an offense going. After playing well and leading by five at halftime, the Bulls went ice cold during the third quarter, managing just 14 points.
"We just missed shots," Del Negro said. "I thought we had some good shots [but] we didn't defend really well in the third quarter and when we're struggling to score we got to really buckle down defensively and they got some easy baskets on us and that third quarter changed the complexion of the game, no question."
Part of the reason the complexion changed so much is due to the fact that Thabo Sefolosha locked down his former teammate. Rose went 0-for-4 in the third quarter and the Bulls offense was never able to recover.
"I thought Thabo did a great job," Thunder coach Scott Brooks said. "His length bothered [Rose], I thought. Derrick Rose is a terrific player and he's on a good roll right now, but I thought Thabo did a good job of making it very tough on him. Our defense did a good job of being tight, and collapsed the paint and made him kick out. And we did a good job closing down on shooters."
There's no question about that considering the Bulls only scored 33 points in the second half.
Aside from the defensive difference in the second half, the Bulls were once again done in by a pure scorer -- Durant -- and his sidekick Westbrook.
"In this league, I already noticed you can't stop great players you can only try to slow them down," Bulls rookie Taj Gibson said. "And on the scouting report we knew Westbrook and other guys could step up and [Monday night] Westbrook had a great breakout game. Guys just played solid."
Now it's up to the Bulls to get back on track Tuesday night when they face the Charlotte Bobcats.
"As a team we played with some good energy," Bulls center Joakim Noah said. "And that's a step in the right direction. We just got to keep it up. I think that overall we're playing better basketball and we just got to keep getting better."
Too bad the Bulls don't have a pair like Westbrook and Durant. It would be a whole lot easier to get better with them on the floor.