How do you blow a 35-point lead?
In the third quarter?
[+] Enlarge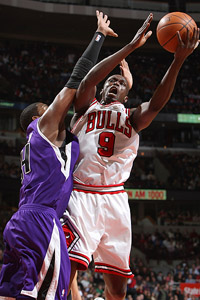 Gary Dineen/NBAE/Getty Images
Bulls forward Luol Deng blamed the team's relaxation for their blown lead against the Kings.
Against a team that you have been completely dominating all night?
Those are the questions that the Bulls have to answer now. Those are the ones that will haunt them for the foreseeable future after the Kings came back to stun them 102-98 on Monday night.
And, ultimately, those are the questions that could Vinny Del Negro his job.
"It's tough," the embattled Bulls coach said after the game. "We had it going pretty well in the first half. We just stopped being aggressive. Stopped moving the basketball in the third quarter I thought. It kind of just got contagious.
"Then in the fourth quarter we couldn't get any stops when we needed to. Gave [the Kings] too many points. And we went cold. But, we weren't aggressive ... we didn't play together. Very disappointed, obviously. We're not good enough to take a minute off, never mind a half. Just not good enough."
Not good enough at all.
The Bulls played their best basketball of the season during the first half. They shot well (60 percent) and played with the type of energy that Del Negro has been begging for all year. Then, as it has so many times over the past month, everything went south for the Bulls. They played tighter than they had all year. They had been down so many times this season that they didn't know how to play with a lead.
They had no idea how to close the game.
"We relaxed," a frustrated Luol Deng said. "We were up too many points and we relaxed ...Everybody's down. It's a tough loss knowing that you should have won. And knowing that you played well [for] three quarters and just didn't finish the game."
The Bulls' collapse was the second worst in NBA history and the worst second-half collapse ever. "That's the first time I've ever been involved in that," a hushed John Salmons said. "It's a tough loss. I don't even know what to say."
Neither did anyone else. The Bulls locker room felt like a funeral home. It was eerily quiet and everyone looked miserable. Nobody could believe what had just happened. Nobody had a clue what was going to happen next.
"You have to execute," Del Negro said. "And we kind of got a little bit complacent there. And they jumped on it. They took advantage of it. We didn't answer when we had to, so everyone takes a little blame. It's me, it's the players, it's the coaches, it's everybody. You have to do just do a better job, and learn from it and get better from it, hopefully. But this one's tough."