Christmas Day fast approaches, along with a regular-season opener against the Chicago Bulls. It's a challenging way for the Los Angeles Lakers to tip off the 2011-12 campaign, as the visitors offer a plethora of questions. How will the Lakers slow down reigning MVP Derrick Rose? Will Joakim Noah be able to annoy Pau Gasol out of rhythm? Can Devin Ebanks, in his first career start, hang with the multiskilled Luol Deng? Will Tom Thibodeau's defensive schemes bottle up Kobe Bryant? Will Carlos Boozer actually play defense?
With so much wonder in the air, it felt like high time to hit up our buddy Nick Friedell from ESPN Chicago for some thoughts on the Bulls. And since Nick has incredible taste, he naturally wanted my insight on the Lakers. Blog exchange time! First, Nick supplies responses to my question about the Bulls, then the process is reversed.
Andy Kamenetzky: What steps does Rose need to take, on the court and mentally, for the Bulls to reach the Finals or beyond? Is he ready? And how much do you expect the new contract, playing as more of a marked man, etc., to affect him?
Nick Friedell: Rose is ready to lead the Bulls to a championship. He's learned from his mistakes against the Miami Heat in the Eastern Conference finals last season, and he badly wants to lead his hometown team to its seventh title. He spent a lot of time watching tape of what happened against Miami, and turned all the disappointment and frustration from that loss into fuel to work even harder in the summer.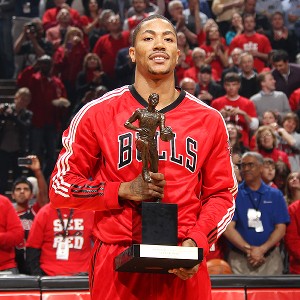 Nathaniel S. Butler/NBAE via Getty Images
Even with an MVP trophy to his name, Rose is ready to discover another level.As far as the contract goes, I don't think it will affect him much at all. I don't completely believe him when he says he feels zero pressure because of the new deal, but I understand what he's saying in this sense -- nobody puts more pressure on himself to win than Rose. Nobody wants to win more than he does in Chicago. His pressure comes from within. I think he embraces the status that comes with being a "marked man" in the league.
AK: What does Richard Hamilton bring for this team, and how well do you see him fitting? How big an acquisition could he potentially be?
NF: It could be huge. Hamilton gives the Bulls a championship-caliber shooting guard, something they didn't have last season. After all, Keith Bogans started and played 15 to 20 minutes per game for the Bulls in 2010-11. Hamilton seems to have fit in with his new teammates quickly and undoubtedly will take some pressure off Rose. The issue, as it is for everybody, is whether at 33 (going on 34 in February) he can stay healthy and produce all season. If he can, and he plays solid defense, he could be the missing piece.
AK: Where are the Bulls most vulnerable as team, particularly against the Lakers? And "nowhere," by the way, is an acceptable answer.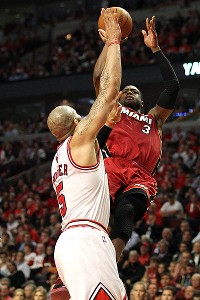 Jonathan Daniel/Getty Images
A betting man would wager money on "Flash" getting the better end of this sequence.NF: It would be easy, especially without Andrew Bynum on the floor Sunday, to say nowhere. But the Bulls still have Boozer on the floor, and Boozer is still a bad defender. Thibodeau always says the Bulls play a team defense, and that's true to a certain extent, but Boozer is the weak link. The Lakers should look to exploit him at that end any way they can.
AK: Which matchup are you most curious to see Sunday?
NF: I want to see how Noah performs without Bynum down low. Will the Bulls try to feed him the ball even more because of that absence? How much time will Gasol get on him? What about Troy Murphy? Either way, that should give Boozer more freedom to operate as well. Noah needs to show some improvement in his offensive game, and this would be the perfect opportunity for him to do it.
AK: Who wins and why?
NF: The Bulls. Rose and Noah have been looking forward to this game all summer. They want to win this game on a national stage and show everyone they weren't a fluke last season. Plus, without Bynum, it's going to be tough for the Lakers to score.
And now, the Lakers-centric section ...
NF: What's it like being a basketball fan in L.A. these days?
AK: Depends on which team you root for. If you are a Clippers fan, everything is wonder, excitement and, quite frankly, a fair amount of chest-puffery. And I don't blame Clippers die-hards for getting a little saucy. By definition, sticking with the Clippers means unconditional loyalty -- Donald Sterling truly tests the limits of "unconditional" -- and after years of being L.A. laughingstocks, feeling like the tables are turned must be rewarding.
As for Lakers fans, it's a very strange, uncertain time. It began with the Lakers getting swept out of the playoffs. From there, you had Phil Jackson's exit ... Mike Brown's arrival ... the lockout ... the nixed Chris Paul deal ... Lamar Odom's angry (and granted) trade request ... Paul landing across the hallway at Staples Center ... Kobe's wrist injury ... and the regular season hasn't even begun yet.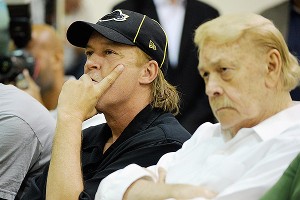 Kevork Djansezian/Getty Images
Lakers fans unconditionally trust one of these men. Hint: It's not the one in the cap.Typically, fans would call on their faith in Jerry Buss to ride out these choppy waters. However, Jim Buss is increasingly calling the shots, which freaks out the Laker Nation even more than everything previously mentioned.
NF: What kind of effect did the Paul deal have in the Lakers' locker room? How angry was Gasol about what went down?
AK: Mostly, that fiasco drove home the uncertainty mentioned earlier. Initially, there was the awkwardness of Gasol returning and Odom refusing to. From there, Mitch Kupchak spoke with the media and acknowledged the now painfully obvious. The Lakers were looking to make moves, and if your name isn't "Kobe" or "Bryant," consider yourself potentially on the move. Players and coaches alike appeared distracted by this period of flux, and that vibe has only recently dissipated.
If there is a silver lining to Paul ending up a Clipper, it's every Laker no longer having to worry about being packaged in a deal for him.
As for Gasol specifically, if there's been any anger on his end, he has masked this emotion convincingly enough to impress the likes of Meryl Streep. There has been zero bitterness expressed. By all indications I've seen, it's just the opposite. Gasol desperately wants to remain a Laker, and has admitted feeling an increased comfort every day he wakes up and doesn't hear he has been traded. In terms of outward reaction, Gasol was the Bizarro-Odom.
NF: How much longer does Kobe have as an elite star, and do you get the sense from him that he thinks the Lakers can win it all this season?
AK: Ask me after I see how he plays with a torn lunotriquetral ligament in his wrist, you know what I mean? All joking aside, dude is running out of things on his right hand to fracture or tear. And, to be honest, we've already seen the effects of these recurrent injuries, even acknowledging how incredible his talent remains. Kobe can still get you a bucket, but he needs to work harder now than, say, three seasons ago.
Plus, there's the mileage. When you count postseason play, Kobe has played the equivalent of almost 19 NBA seasons at age 33, which isn't young by NBA standards to begin with. Father Time is a vindictive cuss and hates to lose as much as Kobe. There are limits, even for arguably the best conditioned player in the NBA. Eventually, that grind catches up to you.
Generally speaking, I've always felt Kobe's window as a truly elite player was probably this and next season, and then he'll have to settle for just being really, really good.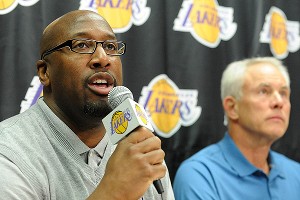 Jayne Kamin-Oncea/US Presswire
There's no mistaking Mike Brown for Phil Jackson.NF: What are the biggest differences between Mike Brown and Phil Jackson?
AK: For starters, Brown is much more down to earth and accessible. I always liked Phil and often found him hilarious. The guy was nothing if not gold for a local writer. But there's no question PJ used humor, as well as his legendary stature, both as intimidation and as a shield. He could be dismissive, and Brown is the polar opposite.
Brown also is a much higher energy guy, which one probably would expect given the age and health difference between him and Phil. And his vibe is infectious. Practices are louder, bouncier and more "rah rah," which I think is a direct reflection of this.
But above all, it's how detail-oriented Brown is. To call the man meticulous barely does him justice. He's obsessive. Not that Phil was indifferent toward doing things the right way. You don't achieve his level of success running an offense like the triangle without demanding precision. But Brown is a preparation junkie. He instructs constantly during games and practices. He watches film 24/7. During the offseason, he showed me and other writers offensive and defensive playbooks, along with a practice log, from his days in Cleveland, and each was a freakin' three-ring binder. "Moby Dick" looked easier to read.
Bottom line, there is simply no detail too small for Mike Brown to sweat. If he somehow doesn't succeed in L.A., it won't be because his ducks weren't properly in a row.
NF: When we talk in two months, will Dwight Howard be a Laker?
AK: It depends whether the front office places more value on the present or future. If it's the former, you can't give up Bynum AND Gasol for Howard, if that's actually the asking price, as rumored. The Lakers almost certainly will become worse in the short run, and that's a recipe for wasting the remainder of Kobe's prime.
However, if Howard can be acquired without gutting the roster, or, truth serum ingested, if this team just won't realistically compete for a title, that's another story. I then could see all the stops pulled out to land the next franchise player, even if the current one likely won't dig the idea of a diluted squad.