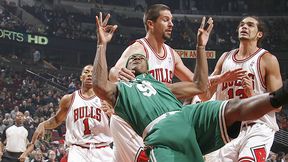 Joe Murphy/Getty Images
Bulls center Brad Miller fouls Celtics guard Rajon Rondo during Boston's 106-80 win on Saturday.
Rajon Rondo knew it was coming.
The Celtics point guard knew that Brad Miller would be gunning for him, and he was right. Why did Rondo have this premonition? Let's review:
During Game 5 of last season's Eastern Conference quarterfinals, the Bulls were down by two points with just over three seconds left to play. The ball was inbounded to Miller and he dribbled down toward the hoop on the way to a layup that would have sent the game into overtime. Before he could get there, Rondo clubbed him in the face. However, the refs didn't call a flagrant foul. It was ruled a regular two-shot foul. Miller went to the line and ended up missing the free throws. The Bulls lost. But Miller didn't forget.
With 8:32 left in the first quarter, Rondo came down the lane and was absolutely clocked by Miller. A flagrant foul was called this time, but not before Miller had gotten some revenge.
"I knew I was going to get hit, going back to what happened last year," Rondo said after the game. "I anticipated contact. It wasn't as hard as it probably seemed."
Rondo insisted that he wasn't mad, and that "it was part of the game."
"I think he tried to go for my face," the Celtics guard said. "He hit me in my nose a little bit as well, but I've been hit harder."
"It's not the first time and it won't be the last time," Rondo said. "I'm not going to be intimidated by it. The next time we play, I'm going to drive whether it's him or whether it's [Joakim] Noah or anybody. It could be Shaq. I'm still going to drive low. That's what I do."