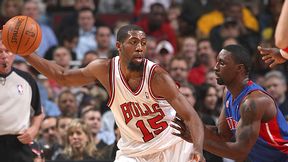 Gary Dineen/Getty Images
John Salmons says the players and coaches need to stick together to ride out their slide.
DEERFIELD, ILL. -- John Salmons didn't want to answer the question. He paused for five seconds while thinking of exactly what he wanted to say.
Do the Bulls players feel like they're playing for Vinny Del Negro's job right now?
"I don't know" Salmons said after Friday morning's shootaround. "I got no comment about that."
The prevailing thought around town is that if the Bulls keep losing, (they come into Friday night's game having lost nine of their past ten) Del Negro may be looking for work soon. As each day passes, and the uninspired losses continue to pile up, the frustration surrounding the organization gets thicker.
It might appear that the team is starting to turn against Del Negro, but Salmons doesn't believe that is the case. He believes Del Negro still has support in the locker room.
"It's just us from Day 1. It's always been us. So we definitely have each other's back," Salmons said. "That's part of being a team. So we definitely got to stay together. Coaches got to stay with players and players got to stay with coaches. That's what we're doing."
But Derrick Rose and Joakim Noah recently said that the team's effort has been lacking, which comes across to some as an indictment on the coaching staff.
Del Negro challenged the assertion that his team hasn't been playing hard.
"People say that, but I don't know what players those are," Del Negro said. "I'd like to know. But our effort's been good in practice. Our attitude's been good. There's frustration and there's disappointment, which is normal, because guys are competitive. "
"You're paid to play. You're paid to bring effort. That's your responsibility, so if guys have a problem with that, they're not the right guys. I don't buy that, and I don't see that. What I see is some lack of execution, some lack of rebounding, some things, but I don't see the effort thing being an issue."
Del Negro may not see that as an issue, but it's clear that his players do. When asked what the team needs to do differently coming into Friday night's game, Salmons said: "We just got to play with energy and focus for 48 minutes. Come ready from the start of the game and just try to jump on them early. And try and sustain it for the whole game."
Over the past few weeks, it's become clear that the Bulls have plenty of flaws. But it appears that one of the biggest reasons for the losing skid boils down to communication. If Del Negro and Co. want to turn around this season, they better get on the same page very quickly.