PHOENIX -- Tyrus Thomas laughed as he walked back to the Chicago Bulls sidelines. He couldn't believe what he had just seen.
Joakim Noah sat at his locker about an hour later and reminisced with Brad Miller about what they had just witnessed.
[+] Enlarge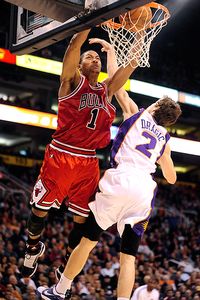 Mark J. Rebilas/US Presswire
Bulls guard Derrick Rose dunks the ball against Phoenix Suns guard Goran Dragic in the fourth quarter of Friday's 115-104 win.
An arena full of fans walked out of the Bulls-Suns game, which Chicago won 115-104, still buzzing about "The Dunk."
With just over six minutes to play and the Bulls desperately trying to hang onto a six-point lead, Derrick Rose came racing down the floor on a fast break and dunked it on top of the Suns' Goran Dragic. The play was so dramatic that almost everyone in the stands seemed to be in a state of shock.
"A terrible dunk," Joakim Noah joked after the game. "I don't understand what all the hype is about."
Even Noah couldn't keep a straight face.
"That was crazy," he said of Rose's slam. "A crazy dunk, man. I'm happy."
As for Rose, the reigning rookie of the year seemed shy when it came to talking talking about the sure-fire SportsCenter top-ten play.
"I got to see it," he said. "I didn't know [Dragic] was going to jump at first to tell you the truth. I was going to go up and just dunk it. He jumped, so I guess I put it back and I just put it in ... I guess I got up pretty high."
You can say that again.
"Derrick's athletic," Bulls coach Vinny Del Negro said about the play. "He's going to get those things. He has that ability. I see it all the time in practice or whatever. I'm more concerned with him running the team and creating off the dribble and his shot and all those things."
Del Negro didn't have much to worry about on this night. Rose scored 32 points and gave the Bulls probably their most impressive win of the season.
The thing is, the lasting memory that from this game won't be the fact that the Bulls won.
It will be that Rose threw down one of the most intense dunks in recent Bulls history.