Getty Images, USA TODAY Sports
Kain Colter (left) and Trevor Siemian (right) have split QB duties this season for Northwestern.There is an old adage in football that when a team has two quarterbacks, it has none. Northwestern might be the exception. The Wildcats are off to a 4-0 start, during which they have utilized two quarterbacks, senior Kain Colter and junior Trevor Siemian.
Northwestern Offense This Season
The Wildcats have a balanced offense, gaining 51.6 percent of their yards on the ground and 48.4 percent through the air. They are the only Big Ten team that averages more than 225 yards passing and rushing.
Yet, Northwestern's offense is drastically different dependent upon which quarterback is under center.
Colter (140 plays) and Siemian (141 plays) have split the team's snaps. The Wildcats have run the ball 75 percent of the time with Colter under center, including 82 percent on first down.
With Siemian taking the snap, Northwestern runs on 50 percent of its plays, including 51 percent on first down.
In Northwestern's season opener against California, Colter was injured after two plays. Since that game, he has taken almost 22 more snaps per game than Siemian.
The Wildcats have 52 offensive drives this season. The two quarterbacks have shared snaps on five. There have been only two drives on which they both took multiple snaps and one was in Week 1 against California when Colter was injured.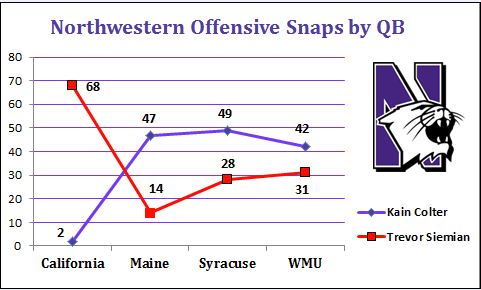 Colter is one the best running quarterbacks in the country. Excluding sacks, he averages 8.3 yards per rush, fourth most by any quarterback with at least 25 such attempts.
With him under center, Northwestern uses zone-reads on 60 percent of its running plays, compared to 28 percent with Siemian. The Wildcats average 7.4 yards on such plays with Colter and 5.3 with Siemian.
Siemian excels at the passing game. Colter does have a better completion percentage, but Siemian's average pass travels 4.4 more yards downfield. Colter has recorded almost 75 percent of his pass yards after the catch, compared to 34 percent for Siemain.
Siemian has completed 50 percent (10-of-20) of his passes thrown 15 yards or longer. Colter has one such completion in eight attempts.
In addition, Siemian has taken one sack in 78 dropbacks, compared to Colter's six in 51 dropbacks.
Northwestern will have a tough task against Ohio State's defense, which is allowing 17 points per game. The Buckeyes have one of the best run defenses, allowing just two rushing touchdowns all season. In addition, the Buckeyes are allowing the eighth-fewest rushing yards per game in the FBS.