The Chicago Cubs shut down right-handed pitcher Rich Harden for the rest of the season after general manager Jim Hendry had a conversation with the pitcher before Thursday's game in San Francisco.
[+] Enlarge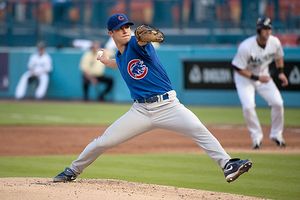 Ronald C. Modra/Sports Imagery/Getty Images
Right-hander Rich Harden could be pitching elsewhere next season.
It was left up to Harden whether he wanted to pitch or not again this season, and Hendry told me that Harden told him in their conversation that in his mind, it's best not to pitch again.
Harden made 26 starts for the Cubs, going 9-9 for the season. The right-handed pitcher will become a free agent in November. Speculation is that Harden will most likely test free agency and pitch elsewhere next season.
Harden, who was traded to the Cubs in 2008, has had numerous problems with his arm and shoulder during his career. He was relegated to being a two-pitch pitcher mostly over the last two seasons, using a fastball and changeup 90 percent of the time.