[+] Enlarge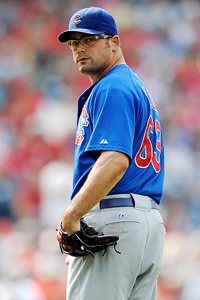 G Fiume/Getty Images
Kevin Gregg has appeared in more games than any other closer this season.
It's pretty obvious that Chicago Cubs closer Kevin Gregg has lost his job after giving up his third walk-off home run of the season Monday night in San Diego. It was Gregg's 12th home run allowed this season, the most of any closer.
Looking at the numbers, the blame might not be all Gregg's. Due to an offensive collapse of gigantic proportions, the 2009 Cubs have played way too many 1-run and 2-run games this season.
This situation has put manager Lou Piniella and pitching coach Larry Rothschild in a position where they had to use their closer in too many non-save situations because of so many tied games.
Gregg has pitched 56.1 innings in 57 appearances this season, more innings than any Cubs reliever except for Carlos Marmol, who is tied. More appearances than any closer in baseball.
This is not an excuse for Gregg, who's been awful the last two weeks. But the workload of the pitchers, and his refusal to ask for a day off, have contributed to this late-inning mess the Cubs continue to find themselves in. Look for Piniella to mix and match the closer's role between Marmol and Angel Guzman in the short term. Gregg will have to pick up some middle and set-up innings along the way if the change is made on Tuesday.
Gregg is on pace to pitch in 81 games, or half of the Cubs' regular-season schedule, far too many for any closer.