Cubs fans have enjoyed bashing closer Kevin Gregg, especially since he blew back-to-back save opportunities in Florida last weekend. In analyzing the numbers, though, Gregg has been used in more games (56) than any other closer in baseball this season.
[+] Enlarge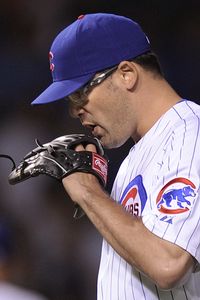 AP Photo/Paul Beaty
Kevin Gregg's struggles may be due in part to the extensive work he's received this season.
The Cubs have had too many close games in which Gregg and Carlos Marmol have had to pitch. Marmol is second in the majors in appearances this season with 59.
I asked Gregg about the fine line between getting enough work to stay effective and being overworked.
"It's a delicate line to deal with," Gregg said. "You have to balance how many pitches you throw between outings. You try to get in and out as quickly as you can."
Gregg went on to explain what happens to him when fatigue sets in.
"Most guys get tired legs," he said. "When their legs go, you have a problem. You have to have your legs under you to control the baseball."
Gregg has saved 23 games in 28 opportunities this season.
A-Ram's return
Third baseman Aramis Ramirez had a pinch-hit in Saturday's game, a day after coming down with flu-like symptoms. The Cubs' doctors sent Ramirez home not only for his own good, but also to protect his teammates from any contagion in the clubhouse.
"I couldn't play yesterday," Ramirez said. "I was really sick. Today I was good enough to pinch hit, get in there. I should be able to play tomorrow."
Ramirez told me antibiotics were prescribed, and that his fever and general body soreness was much better Saturday. Ramirez received a shot in his left shoulder Monday to relieve soreness that has kept him out of games since Aug. 8.