Former Chicago White Sox star outfielder Jermaine Dye and the Chicago Cubs might be a perfect match for the 2010 season. The classy 2005 World Series MVP has had to endure a slow-developing free agent market that now has him considering a backup role with the North Siders, according to Major League Baseball sources.
[+] Enlarge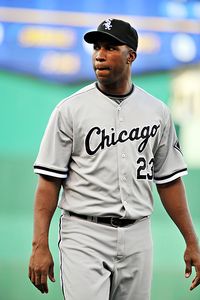 John Rieger/US Presswire
Jermaine Dye has a .274 career batting average in his 14 seasons.
The Cubs' outfield of Alfonso Soriano in left, Marlon Byrd in center and Kosuke Fukudome in right is pretty well set in stone for Opening Day 2010. Historically noting the vulnerability of Soriano due to leg injuries in his three seasons with the Cubs and Fukudome's underachieving collective offensive numbers might be the perfect scenario for Dye to earn significant playing time with the Cubs.
After an outstanding start to the 2009 season, Dye faded badly in August and September. By the end of June, Dye had amassed 18 home runs and 48 RBIs while hitting .329 in that month. The rest of the season was mostly a bust for the gritty veteran, who was a clubhouse leader in his five years with the White Sox. Dye hit a total of four home runs and drove in 18 RBI during his last 45 games in August and September. Hitting just .180 in those last two months made the White Sox' decision not to pick up Dye's 2010 option an easy one (the Sox paid a $1 million buyout).
Although Dye's days as a 150-game performer might be over, the Cubs like the intangibles the soon-to-be-36-year-old brings to the table. The Cubs look at him as a possible backup in left and right field, but also a guy who could easily make the transition to first base as a backup to Derrek Lee, who is entering the last year of his contract.
According to sources, Lee and Dye, who are friends, have already conversed about the pros and cons of Cubdom.
Dye has missed out on contracts with both the Texas Rangers and San Diego Padres in recent days, and his choices of teams and full time outfield situations appear to be dwindling.
Although the Cubs do not appear to have much money left to sign a player who made $11 million last season, don't rule out a creative contract that allows the Cubs to make this move and another addition of a bullpen pitcher.
The Cubs still have interest in bullpen pitchers in both San Diego and the Toronto Blue Jays. The Padres' Luke Gregerson, who had 93 strikeouts in 68 2/3 innings, interests the Cubs; as does Toronto middle reliever Jason Frasor, a Chicago-area product.
The Cubs will also send scouts to look at veteran pitcher Ben Sheets throw a side session tomorrow in Monroe, La.
The Cubs and Sheets would also be a nice matchup; however, Sheets and his agent were looking for upwards of $7 million when the two sides talked during baseball's winter meetings.