[+] Enlarge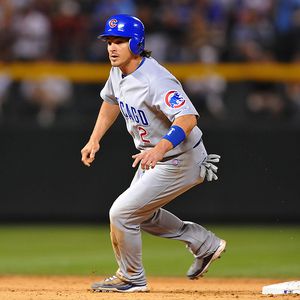 Ron Chenoy/US Presswire
While Ryan Theriot would prefer to stay at shortstop, but if Starlin Castro comes on strong, he's willing to make a move.
Chicago Cubs shortstop Ryan Theriot might be one of the best team guys in the league. Ask Theriot if he would consider moving out of his position at shortstop if rookie Starlin Castro came on strong this spring, Theriot responded, "That's a great question."
"A challenge is good, competition is good, I think it brings out the best in all of us," Theriot said. "Do I want to play shortstop? Of course, it's my natural position, that's where I've been my whole life. In the same breath, I think too often, us as professional athletes get caught up in what we're doing instead of what's best for the team. I think what's best for the Cubs is that we win. If it makes us a better ballclub with me at second base and Starlin at shortstop, then that's fine I'll be more than happy to see that happen, if that make us a better ballclub."
That type of attitude might not make the Cubs a better ballclub, but they sure might be a more cohesive group when they start the regular season on April 5.