The hiring of Greg Maddux as a special assistant to Chicago Cubs general manager Jim Hendry might be the best personnel addition any team has made this season. Job description-wise Maddux will work with players at the major and minor league levels during spring training and then put on his evaluating hat throughout the season as he roams the organization's minor league teams and gives advice to Hendry and assistant general manager Randy Bush on trades and signings.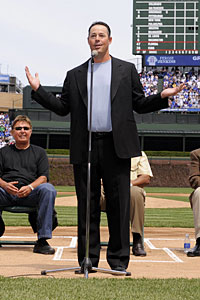 Ron Vesely/Getty Images
The Cubs retired No. 31 in honor of Greg Maddux and Hall of Famer Ferguson Jenkins at a May 3, 2009 ceremony at Wrigley Field.
I asked Maddux if this new job is a prelude to a managing career.
"No, not right now," Maddux said. "I'm just going to slowly get back involved in the game."
Maddux, however, did leave the door open on a possible managerial career in the future.
"Things might change down the road," Maddux said. "But right now I just want to help in areas I can help in."
Maddux did tell me last summer on the day he and Hall of Fame pitcher Ferguson Jenkins had their No. 31 jersey retired by the Cubs that he'd like to manage one day. He also told me at the time he'd like to watch his kids grow up a bit, so he thought his time table to manage would be three to four years.
The new gig for Maddux will incorporate the best of both worlds of baseball and home life.
"There's a lot of room to maneuver in the job," Maddux said. "I'm not going to be putting in the time the coaching staff does or Jim himself. I will have some time to get away to try and balance [baseball and home life]. I love baseball and I miss the game. I'm looking forward to getting back into it. I'm going to do what I can to balance work and home life."
Last summer, Braves manager Bobby Cox, who will retire after 2010 having spent 21 consecutive years managing the team, told me that if Maddux managed, he'd like to work for him.
" You tell Greg if he's going to manage I'd like to be his bench coach," Cox said.
Cox went on to tell me that Maddux is the brightest baseball man he'd ever been around.
Maddux' s new boss, Hendry , doesn't argue with Cox's analysis of the future Hall of Fame pitcher.
"I totally agree with Bobby," Hendry said. "Greg's a cut above all the people I've met in the game and what he can bring to the table. Like I said before, when Greg Maddux walks through your front door as an employee, you just got a lot better."
I asked Hendry what role Maddux will play in the way of being an adviser.
"I see him fulfilling a tremendous variety of roles," Hendry said. "When we discussed him coming aboard he was very adamant about the fact that he wanted to be a very productive employee. This isn't a personal services contract or 'show up at an appearance and sign balls' situation. This is something Greg really wants to sink his teeth into. He'll help our minor league people at every level and he'll evaluate and assist [assistant general manager Randy Bush] in trades. He'll have input at all levels of our organization, including our big league staff."
Maddux had this comment about St. Louis Cardinals hitting coach Mark McGwire and his statement admitting to steroid use:
"He's going to be the hitting coach of the Cardinals," Maddux said. "So maybe he's trying to clean up the past a little bit and move forward. I had a lot of respect for him as a player. He was one of the most intimidating hitters I ever faced and he was one of the toughest outs in the game. There was always a lot of speculation that guys were on that stuff. [As a pitcher] you had to do the best you could to pitch around it."