Marlon Byrd joining the Chicago Cubs automatically brings better offense and defense to the outfield on the north side.
[+] Enlarge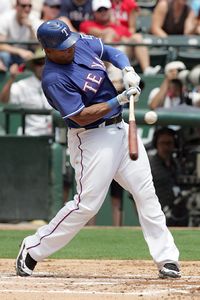 Tim Heitman/US Presswire
Marlon Byrd will talk to his friend Milton Bradley about coming to Chicago.
General manager Jim Hendry was focused on three possible candidates before deciding on Byrd over Scott Podsednik and Rick Ankiel.
"I'm very happy to have signed Marlon," Hendry said. "Obviously he had a lot of success in recent years in Texas. "
Byrd will be reunited on the north side with Cubs hitting coach Rudy Jaramillo, who worked with Byrd in Texas.
"Rudy Jaramillo has been very supportive of signing him, since the day we signed Rudy," Hendry said. "We explored every avenue of free agency and trade to try to fill this role, and kept coming back to Marlon being the right guy."
Byrd had a number of teams going after him, including the Cincinnati Reds, who sources say were offering a multiyear contract as well.
"We had a couple of teams, but at the end of the day, when I was presented a chance to come to the Chicago Cubs, they were my No. 1 choice," Byrd said.
Byrd had career numbers under Jaramillo over the past three seasons.
"[Jaramillo] was a big part of [signing in Chicago]," Byrd said. "I really enjoyed my last three years with Rudy. I'm very comfortable with him. He is the best in the business. We are especially close. It's going to be nice working with him the next three years."
Under Jaramillo, Byrd blossomed with games played, at-bats, home runs, doubles and RBIs in 2009.
During a teleconference Thursday, Byrd was asked about his former teammate Milton Bradley, and his input into Byrd's signing.
"We have a relationship off the field," Byrd said. "I love Milton Bradley. I'm a little biased when it comes to him. I'm going to talk to him today about me coming [to Chicago].
"[I hope he] starts in a new place and gets a fresh start, puts thing in the past."
Byrd gave credit to former Cubs outfielder Gary Varsho, his minor-league manager in the Philadelphia organization, for identifying his talent as a center fielder. Former gold glover Gary Pettis, a coach in Texas, also was given props by Byrd.
The 32-year-old outfielder will bat somewhere between 5-7.