A New York Post article regarding the Chicago Cubs talking to the New York Yankees about sending Carlos Zambrano to New York for a center fielder is premature.
[+] Enlarge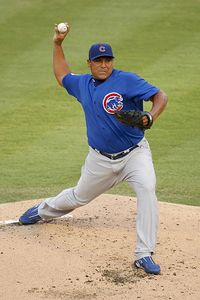 Ronald C. Modra/Sports Imagery/Getty Images
Carlos Zambrano's agent said the Cubs have not approached him with a trade proposal.
First and foremost, Zambrano has a full no-trade clause in his contract that runs through 2012. Zambrano's agent, Barry Praver, said he has not been contacted about a trade. And a Cubs source told ESPNChicago.com there is nothing to the speculation at this point.
"I've had zero discussions with the Cubs about a possible trade," Praver said. "I've talked to them on numerous occasions, and the topic has never come up."
Secondly, any deal the Cubs would make for a pitcher of Zambrano's caliber would have to include young pitching coming back.
The Post reported the Cubs may be interested in either outfielder Melky Cabrera or Brett Gardner. That is easy speculation knowing the Cubs are looking for an outfielder, and the Yanks have excess outfield depth after acquiring Curtis Granderson form Detroit.
If the Cubs were to trade Zambrano to New York, a pitcher like Phil Hughes and/or Joba Chamberlain would have to be included.
Zambrano had a down season in 2009, winning just nine games, and he missed time on the disabled list last season with a pulled hamstring. But the 28-year-old pitcher averaged 16 wins from 2003-08 and has never had an ERA over 3.91.
Zambrano's contract runs has a vested option for 2013. The contract was for $91 million of guaranteed money when he signed in 2007.
The Yankees would love to add another arm in order to combat the Red Sox's signing of John Lackey. The former Angel signed a five-year contract with Boston.
Zambrano has been living in Chicago in the offseason and working out diligently. Those who have seen him said he's in terrific condition at this point.