[+] Enlarge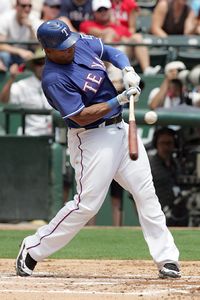 Tim Heitman/US Presswire
Marlon Byrd, 32, batted .283 with 20 home runs and 89 runs batted in for Texas last season.
Now that the Milton Bradley deal has been completed, the Chicago Cubs can go after their primary offseason goal of retooling for 2010. First on their hit list is free-agent pitcher Matt Capps, who saved 47 games over the past three seasons but was recently released by the Pittsburgh Pirates because they did not want to go to arbitration.
Last season wasn't a stellar year for Capps, who had 27 saves but also was 4-8 with a 5.80 earned-run average. Agents for Capps have had serious discussions with six teams, including the Cubs, Washington Nationals, New York Yankees and Florida Marlins. According to sources, Capps may be most interested in offers from the Cubs and Nationals.
Washington is offering a one-year deal that could realize the pitcher up to $4 million. If the Cubs can muscle in with their own two-year offer, they might be able to push Washington out of the way.
What's most appealing for Capps is that Washington is offering the closer's role. The Cubs can't make the same offer because Carlos Marmol will be the Opening-Day closer. If a deal gets done with Capps, he would be the Cubs' primary setup man from the right side. John Grabow, Capps' former teammate in Pittsburgh, will be the left-handed setup man for Marmol.
Meanwhile, the Cubs will pursue a center fielder now that they have traded Bradley. Former Ranger Marlon Byrd is seeking a two-year contract. Former White Sox outfielder Scott Podsednik is said to be asking for three years and $12 million. It's unknown what former St. Louis Cardinals center fielder Rick Ankiel is asking.
The Cubs have interest in all three center fielders. Byrd had the three best years of his career under the tutelage of Texas hitting coach Rudy Jaramillo, now the Cubs hitting coach. Jaramillo has given a thumbs up to Cubs executives in the pursuit of Byrd.
Byrd is not your prototypical leadoff or top-of-the-order hitter. Last season he had a .329 on-base percentage which is not the type of number you're looking for at the top of your lineup.