Sooner or later, and most likely as soon as this week, beleaguered Milton Bradley will be traded to the Tampa Bay Rays for Pat Burrell.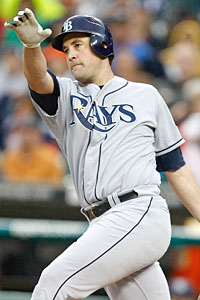 Scott Boehm/Getty Images
The long-awaited Milton Bradley-for-Pat Burrell trade may finally come to fruition this week.
However, the perception the Cubs will have more money to spend on free agents and trades by moving Bradley is false. Bradley and Burrell will make $9 million in 2010 -- that's a wash -- whatever money Jim Hendry saves on Bradley's 2011 contract will not impact $1 of his 2010 payroll. Bradley's owed $12.5 million in 2011. If Hendry can save $6.5 million by eating $6 million, that will only help the person running the 2011 team.
Unfortunately for Hendry, if he doesn't get extra money to sign a solid set-up man and a good center fielder, someone else will be running the Cubs in 2011.
The Ricketts family has targeted $15 million in new ticket revenue for 2010 which will go toward upgrades in Wrigley Field. A man of his word, Tom Ricketts said every dollar of profit in the foreseeable future will go to the team, including Wrigley and payroll.
Although the Cubs' $140 million will put them among the top five or six teams in payroll expenditures, it's the same payroll they had for 2009.
Hendry has an automatic bump of $8 million to pay Ryan Dempster, Alfonso Soriano, Carlos Zambrano and Kosuke Fukudome more cash in their escalating long-term contracts. He also has eight players eligible for arbitration this year. That list includes Ryan Theriot and Carlos Marmol, who both made around $500,000 last season and both will make around $3 million due to the arbitration system.
If the Cubs are going to compete with St. Louis next season, Hendry likely will need $7 million to $10 million to help sign the players he needs.
Every top GM in baseball has had free agents who crashed and burned on them. The Red Sox, as good as they are with arguably the top GM in the game in Theo Epstein, had to eat most of Julio Luogo's $40 million contract without getting anything out of him for four years.
Now the Red sox are faced with possibly not being able to trade third baseman Mike Lowell, who is owed $12 million in 2010. The Red Sox most likely will have to eat that contract.
The Dodgers received a total of three wins in three season for the $47 million they paid right-handed pitcher Jason Schmidt. They also got one year out of Andruw Jones before releasing him before his second season. L.A. paid Jones $36 million, and all it had to show for that was three home runs, 14 RBIs and a .158 average. L.A. GM Ned Colletti is considered one of the top executives in the game, despite the results from these two free agents that cost the Dodgers $84 million.
The only real solution for the Cubs next season is to add to the payroll. If that doesn't work out, the team's new GM in 2011 can start trimming while some of the good-looking farm-system players make their way toward Wrigley Field.
Derrek Lee, Ted Lilly and possibly Aramis Ramirez can all become free agents in 2011, when $50 million can come off the book. The problem is replacing quality players.
The right-handed pitcher for the bullpen Hendry would like to add would most likely be Matt Capps, who was released by the Pirates on Saturday. His payroll figure will be somewhere between $3 million and $4 million, something Hendry doesn't have in a drawer around his desk at Wrigley.