The Chicago Cubs and Chicago White Sox came up empty during this week's winter meetings in Indianapolis. Cubs general manager Jim Hendry probably led all baseball general managers in meetings.
[+] Enlarge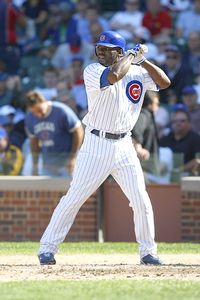 Scott Boehm/Getty Images
Despite leading all GMs in meetings, Jim Hendry was unable to move Milton Bradley during the winter meetings.
Those meetings included discussions with multiple teams in his quest to move outfielder Milton Bradley to a new town and also to start putting together his 2010 team.
The Cubs' roster for next season remains vacant of any new additions since season's end on Oct. 4. The Cubs GM talked to numerous representatives for center fielders such as Marlon Byrd, Scott Podsednik, Rick Ankiel and Mike Cameron, all free agents.
Hendry needs two outfielders, a middle infielder and at least one veteran bullpen guy to complete his team.
The Cubs' bench is vacant after trading Aaron Miles and Jake Fox to Oakland for minor-leaguers and reliever Jeff Gray. The bench currently consists of Andres Blanco, Micah Hoffpauir, Mike Fontenot, Jeff Baker and Koyie Hill. That's not exactly looking like the '27 Yankees. Only Baker and Hill are locks to make the 25-man roster on April 4, 2010.
Hendry must act soon on a deal with Tampa, moving Bradley for Pat Burrell. Burrell is owed $9.5 million for one year and Bradley is owed $21.5 for two. If the Cubs can get some relief in the first year of the trade, Hendry would have some flexibility to add to his team, even with a payroll locked in at $140 million.
The problem for Hendry is he has to be fiscally responsible for 2011, when Bradley's backloaded contract hits $13 million. The team will have more flexibility after next season due to the fact that Ted Lilly, Derrek Lee and possibly Aramis Ramirez will all be free agents.
The Rays' deal is still on the table for the Cubs, and it has been for at least six weeks.
In other news on the team, the Cubs will offer contracts to all of their players before Saturday's roster deadline, except rehabbing left-hander Neil Cotts, who will be offered a minor-league deal if he wants to continue to rehab with the Cubs.
Teams must tender contracts to all 40-man roster players by the deadline on Dec. 12.