The shocker of the general managers meetings seems to be the willingness of the Detroit Tigers to talk parameters of trading center fielder Curtis Granderson and starting pitcher Edwin Jackson this offseason.
Granderson, a Chicago native who played college ball at UIC, would look pretty good leading off for either the White Sox or the Cubs in 2010. [+] Enlarge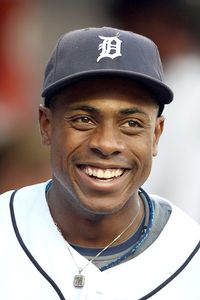 Leon Halip/US Presswire
Thornton Fractional South High School alum Curtis Granderson played his college ball at UIC.
According to baseball sources at the GM meetings, Detroit GM Dave Dombrowski has had conversations with several teams about Granderson and Jackson.
Granderson, who will be 29 next season, batted .249 and hit 30 home runs in 2009 after having sensational seasons in 2007 and 2008.
Jackson came from the Tampa Bay Rays in a deal for Matt Joyce in the winter meetings in 2008. The 26-year-old right-hander was 13-9 with a 3.62 ERA in 2009. It appears there is an edict from Tigers ownership to move some salary and regain some major-league-ready players who can help replenish the Detroit system, which was depleted when the Tigers made moves to add Miguel Cabrera and Dontrelle Willis from the Florida Marlins.
The Jackson situation is curious because of the strong season he put together for Detroit and because of his age.
Granderson is signed to a favorable contract through 2012. He'll make $5.5 million in 2010, $8.25 million in 2011 and $10 million in 2012. The Tigers have a $13 million option for 2013 with a $2 million buyout.
The kid with the million-dollar smile is a marketing director's dream, being both fan-friendly and media-friendly. It's hard to imagine the Tigers moving him, but at some point they're going to have to find money to pay star pitcher Justin Verlander.
Both the Cubs and the White Sox have a need for an outfielder and a leadoff man. Granderson would satisfy both roles for either team.
Both the Cubs and the White Sox would appear to have young players who could satisfy some of the Tigers' needs, but it's unknown at this time what Dombrowski wants back and whether he has talked to either team.