The Chicago Cubs and agents for reliever John Grabow continued to discuss a multi-year contract for the would-be free agent.
[+] Enlarge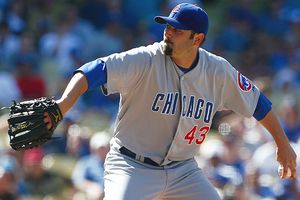 Jeff Gross/Getty Images
John Grabow's people want an option for a third year in the new contract.
Grabow was acquired from the Pittsburgh Pirates at the trading deadline, along with left-hander Tom Gorzellany for Kevin Hart and minor-leaguer Josh Harrison.
The conversation for an extension began in September, as reported here first.
Agent Paul Kinzer represents Grabow, who would be the team's left-handed set-up man and a possible back-up closer in the event Carlos Marmol is injured or needs a day off.
The two sides are talking about a two-year deal for anywhere between a total of $6.5 million and $7.5 million. Grabow's people would like a vesting option for a third year added to the contract.
Also, certain incentives will be built into the package that will include games finished.
The Cubs have exclusive negotiating rights with their own free agents until 10 days after the World Series, when eligible players can declare free agency.
The Cubs have two other possible free agents in right-handed pitcher Kevin Gregg and starting pitcher Rich Harden. It appears both will declare themselves free agents, and neither is expected back with the Cubs.