In a one-on-one interview with new Chicago Cubs owner Tom Ricketts, he confirmed my earlier report that a business plan will be implemented soon to put the Cubs on track to remodel Wrigley Field and to host the 2014 All-Star Game.
[+] Enlarge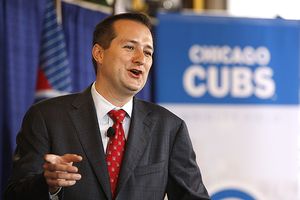 AP Photo/Jim Prisching
Tom Ricketts said an All-Star Game at Wrigley Field in 2014 would "magical."
These events would coincide with the 100th birthday of Wrigley Field, erected as Whales Park in 1914. The Federal League Chicago Whales, not the Cubs, played in the park in 1914-15.
"It would be off the charts," Ricketts said of an All-Star Game at Wrigley. "It would be magical. Hopefully, we'll have that opportunity."
As we sat in the Cubs clubhouse after his news conference, I asked Ricketts about his management team and their future with the Cubs, starting with general manager Jim Hendry.
"When you look at Jim, I think he's done a great job," Ricketts said. "He's been in the playoffs three times in the last seven years. We were only in the playoffs three times in the previous 57 years. I think fans forget that. They forget how far the team has come.
"The season was disappointing, no doubt about it. The production we received from the offensive side was much less than anticipated. There are a lot of other factors. We like Jim a lot. We feel he's the right guy to keep the ball rolling here. I think he's got a lot of people coming up through the system as well that are going to help us. Therefore we are very, very confident Jim's the right guy. For next year, he has the opportunity to come back and take this team all the way."
Ricketts turned his attention to the matter of team president Crane Kenney.
"Crane and I have gotten to know each other very well through the ownership process," Ricketts said. "I've seen what he's done off the field for this franchise, and it's impressive. He's got a lot of ideas. He wants to win as an organization and as a team, I think he's the right guy. We're going to let him try to execute his plan."
The Ricketts family impresses me as a solid business group that is not too starchy to sit in the bleachers with the fans and relate to the average guy.
I told Ricketts how former White Sox owner Bill Veeck used to sit in the bleachers with his shirt off in the 1980s to soak in a little baseball land a little sun on game day.
"I can see myself still sitting out there in the bleachers," Ricketts said. "I don't think I'm adding any value to the experience by taking my shirt off out there."
I asked Ricketts if a Jumbotron in the outfield or on a rooftop is in the Cubs' future.
"There's a lot of value that can be added [revenue wise] by those kinds of facilities," he said. "We'll take a look at it. It's never been a part of our projections. It's never been one of those things that we need to have.
"With that said, if other teams are generating revenue to help them build their squads that we don't have, we have to be open-minded. You ask 41,000 fans if they would suffer through a Jumbotron if it meant a World Series, I think I know what the answer would be."
[+] Enlarge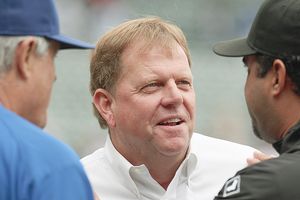 Jonathan Daniel/Getty Images
Tom Ricketts said Jim Hendry is the right man to reach the goals set by the organization.
All of Ricketts' comments centered around taking whatever new revenue streams he may garner and putting them back into the team. Using revenue to refurbish Wrigley and build the new 'Triangle Building' next to the park is a priority for Ricketts.
"Regardless if there's an All-Star game on the horizon, the key is every day we don't have it done [modernizing and rebuilding Wrigley] is a day our fans didn't get the best experience possible," he said.
A new cable station that would be a Cubs-only outlet is something Ricketts and his family will look at. The current contract with Comcast SportsNet and WGN extends for at least another decade. However, a station much like the Yankees' Yes network surely is to be part of the long-range plan for the new owner.
"We have very favorable long-term contracts with the media outlets we have right now," he said. "There's not really any near-term discussions about that."
I asked Ricketts about his conversation with new Comcast partner and White Sox and Bulls chairman Jerry Reinsdorf.
"I've had a handful of conversations with Jerry," Ricketts said. "He's considered to be one of the best owners in baseball, and actually one of the best owners in the NBA as well. I mean he's one of the smartest guys in sports. It would be crazy for me not to ask him for advice from time to time."
I asked Ricketts how much he listens to the media, whether he pays attention to sports radio and blogging.
"That's not something that consumes a large part of my day," he said. "I imagine over the next few months, I'll pick up a few of the media alternatives. But generally it's not part of my day."
Ryan Dempster was the only player in attendance at Ricketts' news conference. He was overjoyed at what he heard from Ricketts.
"It's a good feeling when you hear the priority for he new owners is winning," Dempster said. "For the previous six years I've been here, I never heard that from ownership. It means a lot to me.
"As a player it gets you excited to shake someone's hand, look them in the face and know that person is in charge and that they care about the people and the players and winning a championship as much as we do."
The Ricketts' long-range plan is to make Wrigley Field and the Cubs' experience something other teams look at and envy.