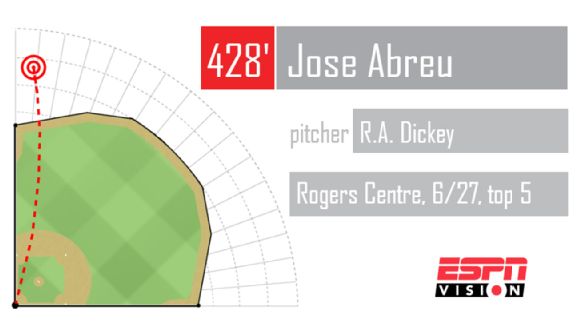 Jose Abreu hit two home runs for the Chicago White Sox in their win over the Toronto Blue Jays on Friday.
It was Abreu's fourth multihomer game this season, his first since April 27.
Abreu now has 25 home runs in 67 games. He's the fastest player to reach 25 homers in MLB history, according to the Elias Sports Bureau.
Fewest Games To 25 Career HRs
MLB History
Only one other player in MLB history -- Mark McGwire in 1987 -- has had more home runs as a rookie before July 1.
Abreu's fifth-inning home run traveled 428 feet. It is the seventh home run this year that he has hit 425 feet or more, which is tied for second-most in MLB and leads the American League.
Abreu's two homers were two of four allowed by R.A. Dickey, the first time he has allowed that many homers in a game since 2006.
Trout goes deep (really deep)
Abreu wasn't the only star hitting long homers on Friday. Mike Trout of the Los Angeles Angels hit a first-inning homer against the Kansas City Royals. His 489-foot homer is the longest hit in Kauffman Stadium since ESPN began tracking homers in 2006, and it is the longest hit there since Travis Hafner hit one 481 feet on April 15, 2012.
It is the longest by an American League player since ESPN began tracking home runs in 2006. The second-longest is 488 by Edwin Encarnacion on Sept. 1, 2012.
Trout's homer is also the longest by an Angel since ESPN began tracking home runs in 2006. The second-longest was Vladimir Guerrero, who hit one 484 feet on July 30, 2006.
Trout's home run is the longest of his career by 26 feet, is his fifth career home run of 450 feet or more and is the longest home run in MLB since Giancarlo Stanton hit one 494 feet on Aug. 17, 2012.