SCOTTSDALE -- Chicago White Sox general manager Kenny Williams' offseason work may be just about complete. Then again, we're talking Kenny Williams, a man who never heard a trade offer he didn't like.
[+] Enlarge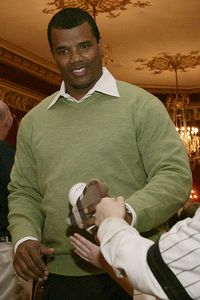 AP Photo/Nam Y. Huh
Ken Williams' penchant for dealing means anything is possible for the White Sox.
The Sox executive told me he's pretty sure the 25-man roster for 2010 is complete.
"I think at this point of the offseason, you're looking at more free agents than trades," Williams said. "That probably means we're beyond [looking at any deals], and there are other teams still talking about some things, but I would doubt it. "
The subject of Bobby Jenks was next for the Sox GM. I asked him if the team really is at odds with the veteran closer.
"Open and honest comments have been inflammatory as they've come out to the public, but it's really men being men, and Ozzie and I being ourselves," he said. "It's about us being honest with our guys first,and honest with you guys and the public second. We had many, many instances where we had differences with our players, and then the next day it's over and done with, and back to business as usual."
I asked if anyone should read into the fact that Jenks will not be attending Sox Fest during the weekend of Jan. 22-24.
"We typically don't put our players who are going through arbitration into that position," Williams said. "When they're in that situation, we want the situation to be resolved. We don't want them trying to promote the club at the same time they're dealing with their situation. You won't see [John] Danks or [Carlos] Quentin there until their cases are resolved."
Williams enjoyed the experience of owners and GMs getting together for baseball's quarterly meetings in Scottsdale.
"It was very educational, personally," Williams said. "I also think as a body of general managers, it's absolutely necessary to get this type of information. I walk away from these meetings with a lot more knowledge of aspect of the business of baseball."