As the new year approaches, the Chicago White Sox seem to have only one more important move to make while their crosstown rivals are in the planning stages of what needs to be done to bring them back to elite status.
[+] Enlarge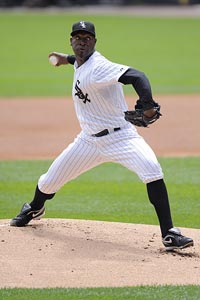 Ron Vesely/Getty Images)
Jose Contreras could give the Cubs insurance in case Ted Lilly's return from shoulder surgery is delayed.
Cubs general manager Jim Hendry is targeting one of two free-agent center fielders as his No. 1 priority. Outfielders Marlon Byrd and Scott Podsednik are 1-2 on his list.
Byrd brings some right-handed pop and solid defense to the party while Podsednik's game is about batting average and filling the Cubs' large hole at the leadoff spot.
After filling that role, Hendry -- whether via trade or free agency -- wants to add a veteran bullpen pitcher. Former White Sox right-hander Jose Contreras has been a part of Cubs talks with agent Jaime Torres.
Contreras would bring a certain amount of protection for the team, considering the unknown status and availability of rehabbing left-hander Ted Lilly, who underwent shoulder surgery in November. He may not be at full strength until mid or late April. And that's where Contreras comes in.
After the Sox shipped Contreras to Colorado in late August, he had solid numbers -- 1.59 ERA in 17 innings pitched -- in helping the Rockies reach the playoffs. Listed at age 39, his real age is could be anywhere from 40-45, nonetheless the Cubs are looking at him as protection for Lilly, and also to push the No. 4 and No. 5 spots in the iffy bottom of the rotation
Former Florida Marlins setup man Kiko Calero also is a possible as a free-agent signing.
On the trade front, major league sources tell ESPNChicago.com the Cubs and Rockies have had conversations about a trade that could send outfielder Ryan Spilborghs to the Cubs. He's a solid defensive outfielder who can play all three outfield positions and would come in as the Cubs' fourth outfielder, the role previously held by Reed Johnson.
The Sox's only hole going into 2010 is a right-handed RBI bat. Although sox officials have talked about using DH as a rotation spot for veterans, left-handed RBI men like Aubrey Huff, Hank Blalock, Carlos Delgado and former Sox DH remain on the market.