[+] Enlarge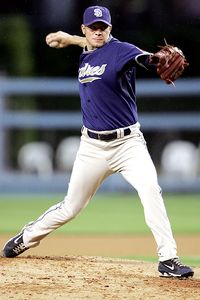 Gary A. Vasquez/US Presswire
Jake Peavy's agent says the right-hander prefers the NL and is comfortable in Southern California.
The Chicago White Sox and San Diego Padres have agreed in principle to a deal that would send right-handed pitcher Jake Peavy to the South Side for left-handed pitcher Clayton Richard and former No. 1 draft pick Aaron Poreda, who is a 6-6, left-handed pitcher.
The deal is pending Peavy's approval.
"Jake called me [Wednesday] afternoon to ask about what it's like here in Chicago," said Sox reliever Scott Linebrink, who was a teammate of Peavy's on the Padres. "I think he's ready to move on, but I can't tell you for sure he's going to accept the deal. Losing 100 games, like they did last year, wears on a player.
"Right now, I'd say it's 50-50 as to whether he accepts it or not. He'll get with his family today and make a decision."
The Padres have been trying to trade Peavy and his contract, which could be worth $84 million, since last November. The Chicago Cubs were the main suitor, but on Dec. 6 at the Winter Meetings in Las Vegas, they backed out of a deal that would have sent upwards of five players to San Diego.
Other teams have been interested Peavy, but Peavy has told the Padres on numerous occasions that he wanted to stay in the National League, and there were only three places he would go. The three placesup until now were the Cubs, Atlanta Braves and the Houston Astros. The Braves and Astros had long negotiations with the Padres but were unable to come up with a suitable deal for both sides.
Peavy, the Cy YoungAward winner in 2007, was shut down at the end of 2008 with some shoulder problems.