Switch-hitting outfielder Coco Crisp is one of a large pool of free agents the White Sox are looking at in hope of revitalizing their offense in 2010.
[+] Enlarge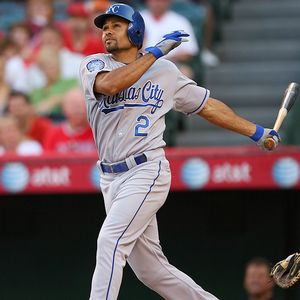 Larry Goren/Icon SMI
Coco Crisp was limited to 49 games last season with the Royals because of an injury.
Crisp was limited to 49 games last season with the Kansas City Royals because of an injury. The Royals bought out the contract of the former Indian and Red Sox for $500,000 last month.
Crisp had his best season in 2005 batting .300 with 16 home runs, 69 runs batted in and 15 stolen bases.
The 30-year-old center fielder has over 137 career stolen bases. Although the White Sox would project him as their lead-off man, on-base percentage is not a strength for Crisp. On the other hand, he doesn't strike out a lot so he makes a lot of contact. The California native is considered an above-average outfielder with good range. Teams that decide to avoid bidding on Anaheim Angels free agent Chone Figgins will have Crisp and White Sox free agent Scott Podsednik on their radar as potential leadoff men next season.
The White Sox's main needs continue to be a lead-off man, a left-handed bat and two solid bullpen pitchers. Maxed out at $94 million in committed payroll due to escalating current contracts and arbitration, the White Sox need to move a salary or two in order to be able to sign a free agent. The good news for them is re-signing Podsednik or Crisp would not break the bank. Right now, the White Sox do not have the flexibility or cash to sign Figgins, who will receive a three- or four-year deal, averaging $10-11 million a season.