Chicago White Sox general manager Kenny Williams left Tuesday's general managers meetings to attend the Bulls-Nuggets game at the United Center and ran into agent Arn Tellem, who represents numerous NBA players but also has World Series MVP Hideki Matsui. Matsui, who will be a free agent on Nov. 20, would be a perfect fit for the White Sox if the team can free up some payroll over the next couple of months.
[+] Enlarge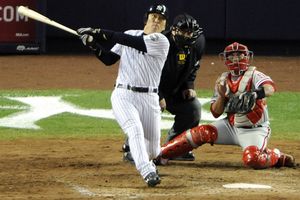 Howard Smith/US Presswire
Will the Yankees' insistence on moving Hideki Matsui to designated hitter end the World Series MVP's career in pinstripes?
Williams said he has been given his budget number for 2010 by team owner Jerry Reinsdorf.
"Yeah [I received it]. But I always work on changing it," Williams said. "Jerry gave me a pretty hard number, but we're working on him. I think I'm becoming annoying to him, actually."
Reinsdorf has shown tremendous flexibility with his payroll when the baseball operations and marketing departments are able to show him how a big splash in free agency or via trade might pay off on the field and at the box office. As an example, the White Sox made $60 million commitments to pitcher Jake Peavy and outfielder Alex Rios during the 2009 season. Peavy was obtained in a trade with the San Diego Padres and Rios was picked up on a waiver claim after he was made available by the Toronto Blue Jays. Both of those moves went beyond the White Sox's $95 million payroll last year. However, with $40 million possibly coming off the books after the season from current free agents who might be leaving, Reinsdorf wasn't afraid to pull the trigger.
Matsui wants to play at least four days a week in the field, according to sources familiar with the free agent. It appears the Yankees will consider bringing him back only as a designated hitter. Yankees general manager Brian Cashman was on record at these meetings stating that DH is the role for Matsui in the future. For Matsui, that might mean that he will direct his agents to find another team for him.
Tellem and Reinsdorf have a tremendous relationship that extends to both business and personal levels. Reinsdorf gave then-free agent Albert Belle a record-setting contract in 1997 after growing tired of his fellow owners' failure to show fiscal restraint following another runaway free-agent season. Now he's expected to open the team's wallet with a $100 million budget for next season.
The White Sox appear six to eight weeks away from making final roster decisions for next season. Looking at the secondary market after teams decide whether to non-tender their own players in early December would be the team's prudent way of judging the entire landscape of player movement.
Williams and his management team will consider bringing back some of their own free agents.
"I don't exclude anyone," Williams said. "I can tell you the likelihood as each day goes by isn't great, but at the end of the day, when January rolls around, there will be some opportunities. So you have to wait to play you're hand."