The Chicago White Sox's next impact player from their minor-league system is on the cusp of making the jump to 35th and Veeck Drive. If the name Jordan Danks sounds familiar, it should, he's the young brother of Sox starter John Danks.
[+] Enlarge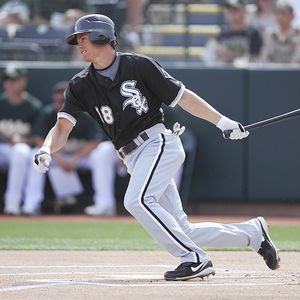 Ron Vesely/MLB Photos/Getty Images
Jordan Danks had a .500 on-base percentage through Tuesday in the Arizona Fall League.
Drafted out of the University of Texas in 2008, Jordan Danks has been one of the most dominant players in the Arizona Fall League, hitting .390 through Tuesday with an astounding .500 on-base percentage.
I asked Danks what was a realistic timetable to make it to the majors.
"Since spring training, I started to think about being ready to play in the majors," Danks said. "I got to play in a couple of games in spring training, and in one in particular, I batted in between Carlos Quentin and Jim Thome. That really got me pumped up for the season, thinking about having a chance to play with those guys sometime soon."
Danks is almost a finished product. As I've previously mentioned here, Sox minor-league director Buddy Bell told me Danks already is the best defensive outfielder in the organization. Bell also stated Danks is able to play above-average defense at any of the outfield positions.
As far as his offense, that hasn't been a problem for Danks at this point. But it appears that thinking along with the pitcher on the mound that day is the key for the final piece of development for the Texas native.
"I'm working on not trying to be vulnerable to off-speed pitches," Danks said. "That's something I've worked on very hard here in Arizona. I'm concentrating on taking that first-pitch change-up, the pitch that used to look like a fastball to me, and now with that philosophy I'm getting ahead on the count and getting my pitch more often."
"He's close, he's very close to being ready," White Sox hitting instructor Gary Ward said Tuesday night. "He's definitely going to be playing in the major leagues soon."
Ward is the Sox Triple-A hitting instructor and also batting instructor for the Peoria Javelinas, the Sox team in the AFL.
Drafted in the seventh round, Danks' numbers were just so-so after getting promoted to Double-A Birmingham from Single-A in 2009. Cutting down on a bit of a long swing has been Danks' goal in the AFL.
Don't discount Danks' chances of making the lineup sometime in 2010. Although one full season in the minors does not make a player, that formula worked to perfection for Gordon Beckham last year. Beckham also was a 2008 pick.
If Danks does make it to the majors in 2010, he'll be the third 2008 pick to do so, along with Beckham and September call-up, pitcher Daniel Hudson.
The Sox are in dire need of a good left-handed hitter, and Danks may be the answer next year.