[+] Enlarge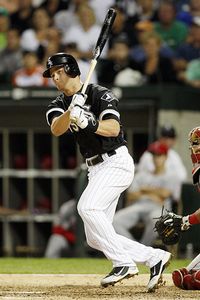 Jerry Lai/US Presswire
Third baseman Gordon Beckham is planning to hit the weight room so he can take advantage of U.S. Cellular Field's shorter fences.
First-year White Sox third baseman Gordon Beckham said he will work on being a lot stronger and more prepared in 2010 after being named The Sporting News' American League rookie of the year on Tuesday.
Beckham said he will hit the weight room in hopes of taking advantage of U.S. Cellular Field's short fences. The 23-year-old infielder hit 14 home runs in 103 games in 2009, and hopes to be able to hit more home runs to all fields next season.
According to manager Ozzie Guillen, Beckham, for now, will stay at third base. Guillen said in a phone interview on Tuesday that the White Sox are set with Beckham at third, Alexei Ramirez at shortstop, Chris Getz at second base and Paul Konerko at first base. The White Sox will have A.J. Pierzynski returning as their catcher and two outfield spots are already set with Alex Rios in center and Carlos Quentin most likely moving from left to right field.
The 23-year-old Beckham was very impressed with The Sporting News award due to the fact that players vote for this award, while the Baseball Writers' Association of America votes on its rookie of the year award, which is given in November.
Beckham didn't mean to diminish the BWAA award, saying that will be a wonderful achievement as well, but being recognized by his peers was special for Beckham.