Two outstanding White Sox pros may have played their last home game at U.S. Cellular Field on Sunday.
[+] Enlarge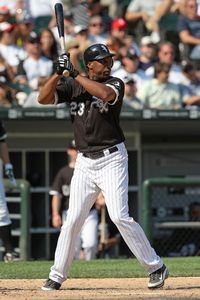 Jonathan Daniel/Getty Images
Jermaine Dye cherishes his time with the White Sox.
Outfielders Jermaine Dye and Scott Podsednik, both integral parts of the 2005 White Sox World Champions, seemed to sense their Sox careers may be over as the team played its last home game of the season
"I had a great time here and enjoyed it," Dye said. "We won a World Series, the fans were great, everything about Chicago is awesome. It's been a great time here."
Dye and White Sox general manager Ken Williams are close friends, however, that relationship will not stop Williams from moving Dye if he feels someone else should fill his roster spot.
"He knows what my mind set is," Dye said. "Hopefully something can get done. We'll talk after their organizational meetings take place."
I asked Dye if these last five years with the White Sox have been the best period for him.
"It has, all up and down, from [chairman Jerry] Reinsdorf to everybody in this organization," he said. "They have been great to me. I look forward hopefully finishing my career here, if not, I had a great time."
Dye is one of the most well-respected players in the game and certainly has some productive years left, although maybe not as a 162-game player.
White Sox manager Ozzie Guillen was almost in tears talking about the possibility of facing the future without the rock-solid Dye in his clubhouse.
"I've head a lot of good baseball players," Guillen said. "JD is on top of that list of guys I ever managed.
"I never managed a better guy that goes about his business the way Dye does. I don't know if it's the end of the line, but he's a No. 1 or No. 2 in my book of players that I ever managed. He gives everything he has every day on that field. I hope he comes back, if not, he knows he always has a friend in baseball."
Podsednik has once again established himself as a legitimate leadoff man. The question is whether he fits with the the Sox next season. Sox officials haven't made up their mind on Podsednik, thinking they may go after a leadoff hitter like Chone Figgins, who will be a highly sought-after free agent by upwards of a dozen teams.
"I've developed a good working relationship with the coaching staff," Podsednik said. "The strength and conditioning people and I have all worked well together. It just all comes down to a comfort zone, and I've had that here with the White Sox."
The White Sox will certainly entertain giving Podsednik another year with an option if they can't solve the question of finding a leadoff man through trade or free agency.