The Cubs aren't the only team going through a bullpen transition. White Sox manager Ozzie Guillen has demoted set-up man Scott Linebrink from his eighth-inning set-up role.
[+] Enlarge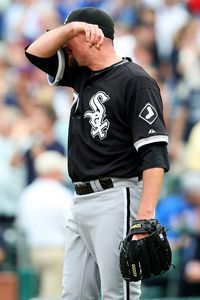 Jonathan Daniel/Getty Images
Scott Linebrink pitched himself out of a set-up role.
The final straw for Guillen was a Mike Jacobs three-run home run that tied up Monday night's game in the eighth. The numbers speak to why Guillen has made this move. Linebrink has given up 10 runs on 15 hits and nine walks over his past 10 2/3 innings pitched, covering 12 games.
For now, lefty Matt Thornton will assume the eighth-inning duties by himself. Guillen did say that D.J. Carrasco has done extremely well in everything they've given him in the bullpen and might be a part-time solution in the set-up role.
The problem with using Carrasco in that role is that he's been outstanding as the long man in the bullpen when starters have had to come out early in games.
"Linebrink will return to the set-up job when we get him straightened out," Guillen said. "For now, he'll be used in another role."
Paulie's problems
First baseman Paul Konerko has been in a prolonged slump in August, as he has watched his average dip more than 25 points. I asked Guillen if Konerko's bumps and bruises are affecting his hitting.
"Mental, mental, mental," Guillen said. "This guy's put up numbers for years. His mind is all over the place. I don't know why. When you are a veteran player and you know how good you are, you sometimes get kind of in between. I've managed Paulie for six years. I know who he is. He wants to do more than he can do."
I asked Guillen how he's helped get Konerko out of these funks in the past.
"Just laugh at him," Guillen said. "Make fun of him, tell him he's good. Just … watch the ball and hit it. It's all mental. Physically he's there."
Peavy plan
Jake Peavy threw four innings, allowing five hits and four runs in his second rehab start for Charlotte on Tuesday night. Peavy struck out five, hit a batter and allowed a home run.
The White Sox's plan right now is that Peavy will make at least one more rehab start, on Aug. 23. After that, the team, along with Peavy, will decide if he needs one more minor league outing before joining the big league club.