Listen to highlights of Bruce's interview with A-Rod
Alex Rodriguez and I have been friendly since he came to the Major Leagues in 1994. The one thing that he always strived for was perfection when it came to the game itself and his image. All of that came crashing down when he admitted using steroids in an exclusive interview with ESPN's Peter Gammons last winter.
[+] Enlarge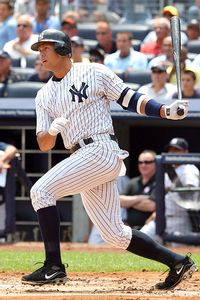 Jim McIsaac/Getty Images
It took Alex Rodriguez some time to realize he couldn't be all things to all people.
I asked Rodriguez about trying to be too perfect, too mechanical in the past.
"First of all, I agree with your assessment 100 percent," Rodriguez said. "I came up to the big leagues at 18, and actually went straight from my prom to the Major Leagues. I was a kid wet behind the ears and I made a lot of mistakes.
"I wanted a lot of people to like me, however, after a while you find out you're not going to please everyone and that ultimately, you're just a baseball player. My philosophy now is that at the end of the day, if you have a handful of friends and family that like and love you, that's enough."
Rodriguez is now 34 years old, hardly a kid anymore and much more comfortable in his own skin. He can flow between hanging with a 60-year-old reporter and flying around the world with his present girlfriend, actress Kate Hudson. I asked him about the jet-setting.
"I really don't know the world of Hollywood very much," he said. "The one world I know is the world of baseball. I play it, I study the history of the game. It's more than a passion for me. It's a huge part of who I am."
I asked what he thought when he heard the revelations about Manny Ramirez and David Ortiz testing positive for banned substances. I prefaced the question by asking what should be done with the list of 106 players who tested positive in 2003.
"I'm glad I'm not making those decisions," Rodriguez said. "Manny and David are great friends of mine. I support them and I wish them well. I do feel the game is moving in the right direction. Right now, there are 10 teams that could end up going to the World Series and winning it. Back in '94, when I started, it was one of three or four teams that could win. I think the game is in great shape."
I then asked him how his life has changed since he admitted his steroid use.
"The fact is, I was humbled by the whole situation," he said. "Afterwards, it felt like there was a gorilla lifted off of my back. I felt liberated. Now I can go out and just play baseball."
A-Rod loves Chicago and White Sox owner Jerry Reinsdorf, as well: "To me, he's the greatest guy. He loves baseball and the people in it. It seems all he cares about is that the White Sox win. Look at the move he made to let his general manager go for Jake Peavy. Chicago fans should love the guy. He's all about winning."
Rodriguez loves to hear about Michael Jordan. I spent hours just talking to him and regaling him with stories about MJ and his career. Actually, A-Rod tried at one time to pattern his professional career through Jordan's example. Rodriguez even hired Tim Grover, Jordan's trainer, after one of our conversations about Grover 10 years go.
In closing, A-Rod talked to me about White Sox third base phenom Gordon Beckham: "He looks like a wonderful player. Wow, what a natural stroke, nice and compact, just like a young Paul Molitor. I think he's going to be outstanding."